Join me on a culinary adventure as we dive into the world of Blueberry Cornmeal Pancakes. These pancakes are the epitome of comfort and taste, combining the delicate fluffiness of traditional pancakes with the rustic goodness of cornmeal and the fruity sweetness of blueberries. Get ready to impress your loved ones with this delightful recipe!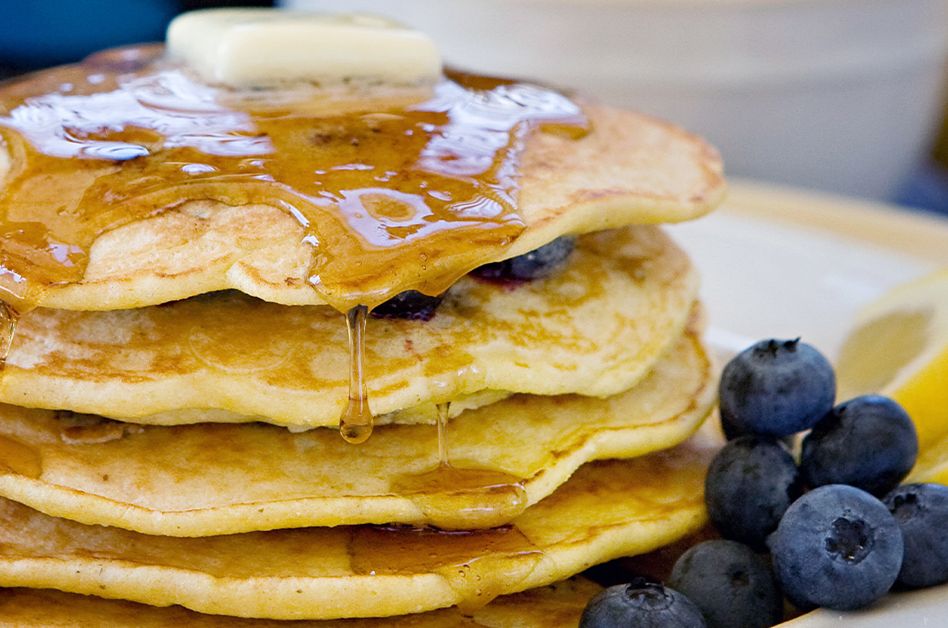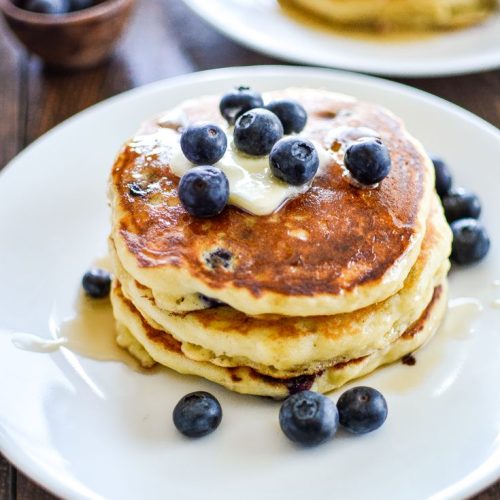 Blueberry Cornmeal Pancakes
Join me on a culinary adventure as we dive into the world of Blueberry Cornmeal Pancakes. These pancakes are the epitome of comfort and taste, combining the delicate fluffiness of traditional pancakes with the rustic goodness of cornmeal and the fruity sweetness of blueberries. Get ready to impress your loved ones with this delightful recipe!
Equipment
1 large bowl

1 separate bowl

1 large nonstick skillet or griddle
Ingredients
⅓

cup

whole grain cornmeal

½

cup

orange juice

½

cup

whole wheat pastry flour

¾

cup

boiling water

1

egg

2

tablespoons

sugar

1

tablespoon

olive or canola oil

1½

teaspoons

baking powder

½

teaspoon

baking soda

½

teaspoon

vanilla

¾

cup

fresh (or unthawed frozen) blueberries
Instructions
Whisk the cornmeal and boiling water together in a large bowl until the cornmeal thickens slightly, then whisk in the orange juice, sugar and egg; set aside.

In a separate bowl, combine the flour, baking powder and baking soda and stir together well. Add the flour mixture to the cornmeal mixture and stir until just combined, then stir in the oil and vanilla.

Spray a large nonstick skillet or griddle with cooking spray and place it over medium heat. Once the skillet is hot, spoon about 3 tablespoons batter per pancake into skillet.

Cook for about 2-2 1/2 minutes (or until the edges are bubbly). Flip the pancakes and cook for an additional 1 1/2 – 2 minutes, or until golden brown.
Notes
To make these pancakes even more indulgent, serve them with a dollop of whipped cream or a drizzle of maple syrup. The combination of creamy sweetness and the pancake's texture creates a heavenly taste experience. Enjoy every bite and don't forget to share this recipe with your fellow food lovers!
Cooking Tips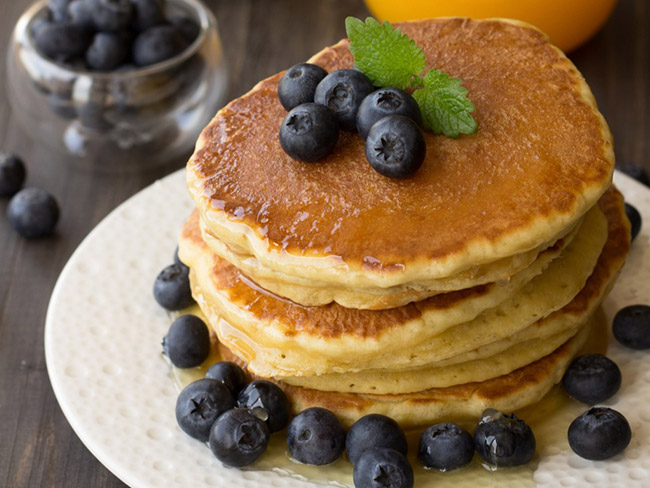 Master the art of making Blueberry Cornmeal Pancakes with our expert cooking tips. From achieving the perfect texture to avoiding common pitfalls, these insights will help you create pancakes that are light, fluffy, and bursting with blueberry goodness. Let's dive in and ensure your pancake-making success!
The Right Batter Consistency:
To achieve fluffy pancakes, ensure that your batter has a slightly thick consistency. Avoid overmixing as it can result in dense and tough pancakes. Stir the ingredients until they are just combined, leaving small lumps in the batter. This will yield pancakes that are tender and airy.
Gentle Blueberry Incorporation:
When adding the blueberries to the pancake batter, gently fold them in. Overmixing can cause the berries to burst and color the batter, resulting in unevenly distributed blueberries. Fold them in using a spatula just until they are evenly dispersed, ensuring each pancake gets its fair share of juicy berries.
Cook over Medium Heat:
Maintain a medium heat setting on your griddle or skillet to ensure even cooking without burning the pancakes. A too high heat can lead to pancakes that are golden on the outside but undercooked inside. Adjust the heat as needed throughout the cooking process to maintain the ideal temperature.
Perfect Flipping Technique:
Wait for bubbles to form on the surface of the pancake before flipping. This indicates that the pancake is ready to be turned. Use a spatula to gently flip the pancake, being careful not to press down on it. Pressing can compress the pancake and result in a denser texture.
Keep Warm in the Oven:
If you're making a large batch of pancakes, preheat your oven to a low temperature (around 200°F or 95°C) and place the cooked pancakes on a baking sheet. This will keep them warm and maintain their freshness while you finish cooking the remaining batter.
Serving Suggestions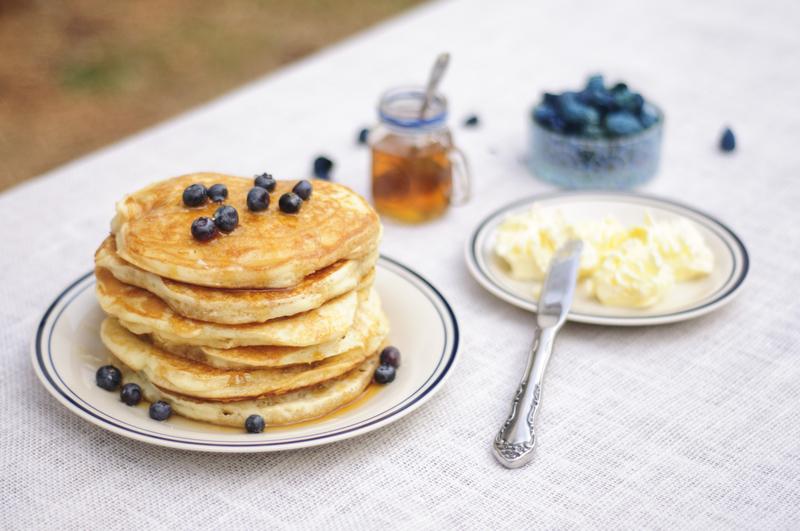 Elevate your Blueberry Cornmeal Pancakes to a whole new level with our creative serving suggestions. Whether you're hosting a brunch gathering or simply treating yourself to a delightful breakfast, these ideas will add an extra touch of flair to your dining experience. From recommended accompaniments to unique presentation ideas, let us inspire your culinary creativity and make your pancakes truly shine.
Serve for Brunch Bliss:
Indulge in the perfect brunch delight by serving Blueberry Cornmeal Pancakes alongside crispy bacon or sausage links. The savory notes of the meats beautifully complement the sweetness of the pancakes, creating a balanced and satisfying meal. Complete the spread with a fresh fruit salad and a pitcher of freshly squeezed orange juice for a vibrant and refreshing experience.
Family-Friendly Breakfast:
Blueberry Cornmeal Pancakes are a hit with kids and adults alike. Make it a family affair by setting up a toppings bar with an array of options such as whipped cream, chocolate chips, and a variety of syrups. Let everyone customize their pancakes to their heart's content, creating a fun and interactive breakfast experience. Pair it with a tall glass of cold milk or a cup of hot cocoa for the little ones.
Elegant Brunch Entertaining:
Impress your guests with a sophisticated brunch presentation. Stack the Blueberry Cornmeal Pancakes in a tower, alternating layers of pancakes with a drizzle of pure maple syrup and a sprinkle of powdered sugar. Garnish with fresh mint leaves and a handful of plump blueberries. Serve alongside a side of vanilla-infused Greek yogurt for a creamy and tangy accompaniment that complements the flavors beautifully.
Sweet Dessert Pancakes:
Transform your Blueberry Cornmeal Pancakes into a decadent dessert by serving them with a scoop of creamy vanilla ice cream or a dollop of whipped cream. Drizzle with warm chocolate sauce and sprinkle some crushed toasted almonds on top for added texture. This indulgent treat is perfect for those special occasions when you want to end your meal on a sweet note.
On-The-Go Snack:
Don't limit Blueberry Cornmeal Pancakes to just breakfast or brunch. These pancakes make for a delicious grab-and-go snack. Make smaller, bite-sized pancakes and pack them in a container for a delightful mid-morning or afternoon treat. They are perfect for picnics, road trips, or as a lunchbox surprise. Enjoy them as is or pair with a small container of yogurt for a balanced snack.
FAQs about Blueberry Cornmeal Pancakes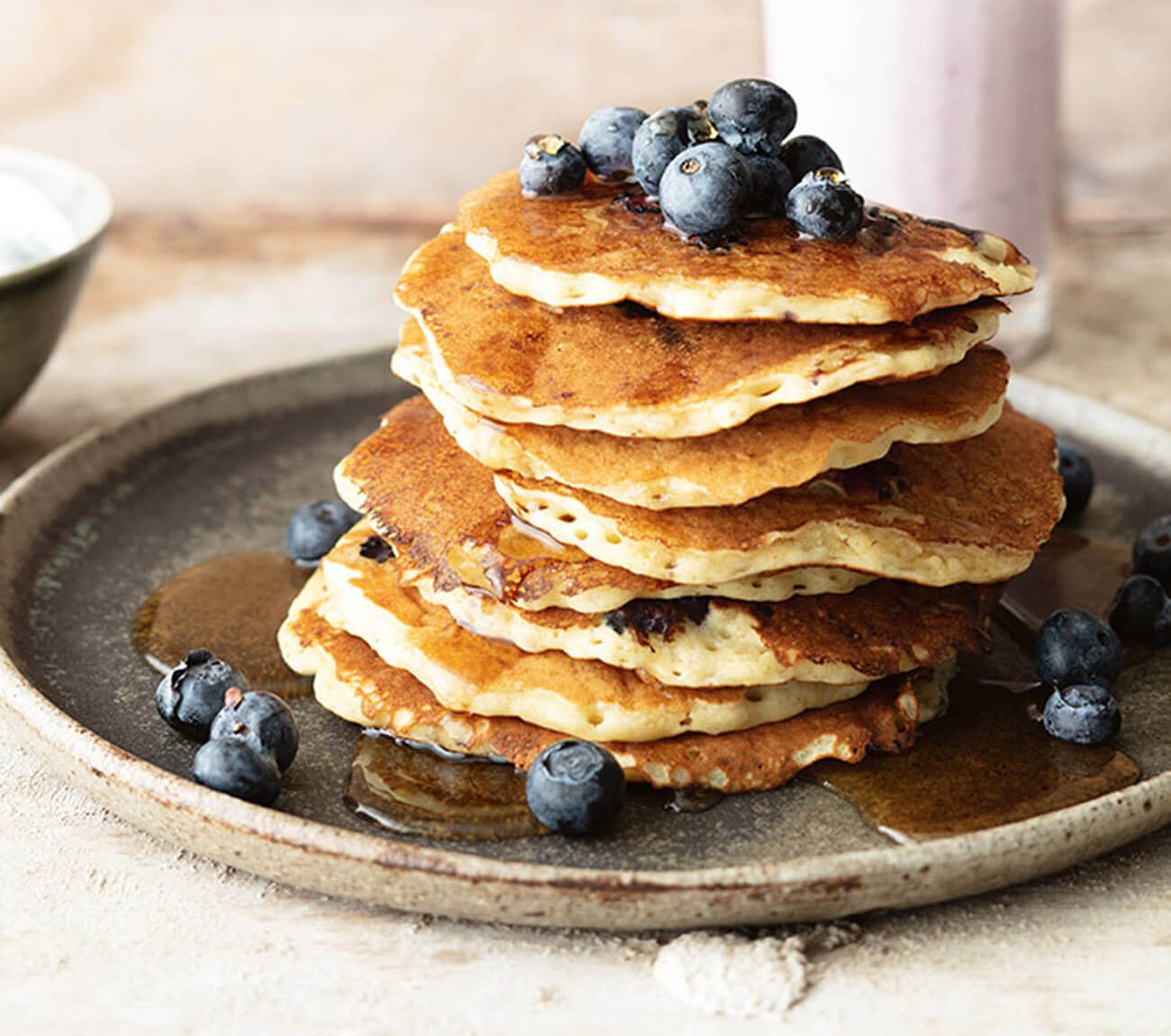 Curious about Blueberry Cornmeal Pancakes? We've got answers to some commonly asked questions to help you navigate the pancake-making process like a pro. From storage tips to ingredient substitutions, let's dive right in!
How should I store leftover Blueberry Cornmeal Pancakes?
To store any leftover pancakes, allow them to cool completely. Place them in an airtight container or wrap them tightly in plastic wrap. Store them in the refrigerator for up to 2 days. To reheat, simply pop them in the toaster or warm them in a skillet over low heat until heated through.
Can I substitute cornmeal with another ingredient?
If you don't have cornmeal on hand or prefer a different texture, you can substitute it with an equal amount of all-purpose flour. However, keep in mind that this will result in a slightly different taste and texture. The cornmeal adds a delightful crunch and a hint of nuttiness to the pancakes.
Can I make the batter ahead of time?
While it's best to prepare the batter fresh, you can make it ahead of time if needed. Keep the batter covered in the refrigerator for up to 24 hours. Before cooking the pancakes, give the batter a gentle stir to ensure the ingredients are well incorporated.
Can I use other fruits instead of blueberries?
Absolutely! The recipe is versatile, and you can experiment with different fruits. Raspberries, strawberries, or diced apples make excellent alternatives. Just make sure to adjust the sweetness if necessary, as different fruits have varying levels of natural sweetness.
How can I make these pancakes gluten-free?
To make Blueberry Cornmeal Pancakes gluten-free, substitute the all-purpose flour with a gluten-free flour blend. Ensure that the blend contains a binder like xanthan gum or use a recipe specifically designed for gluten-free pancakes. The rest of the ingredients can remain the same.
Get ready to indulge in a delightful breakfast treat with our Blueberry Cornmeal Pancakes. Our cooking tips ensure the perfect consistency and incorporation of blueberries, while our serving suggestions offer a range of options for brunch, family-friendly meals, elegant entertaining, and even on-the-go snacking. Don't miss out on the chance to share the recipe and subscribe to our blog for more mouthwatering creations.