A classic, Russian culinary masterpiece revamped into a low calorie, low fat, and delicious dinner. The Portobello mushrooms called for in this recipe have an unbeatable meaty texture that makes them well worth the few extra cents they will cost you to make this dish. However, if you can't find Portobellos, another type of mushroom will work just fine.
Light Beef Stroganoff will "blow you away" with it's rich, creamy, full-bodied flavor. Unlike it's "traditional" counterpart, this meal eliminates the heavy cream and butter (therefore eliminating a bunch of unnecessary fat and calories) – but the taste won't let you down! Family members and dinner guests, alike, will NEVER suspect that is a healthy dish.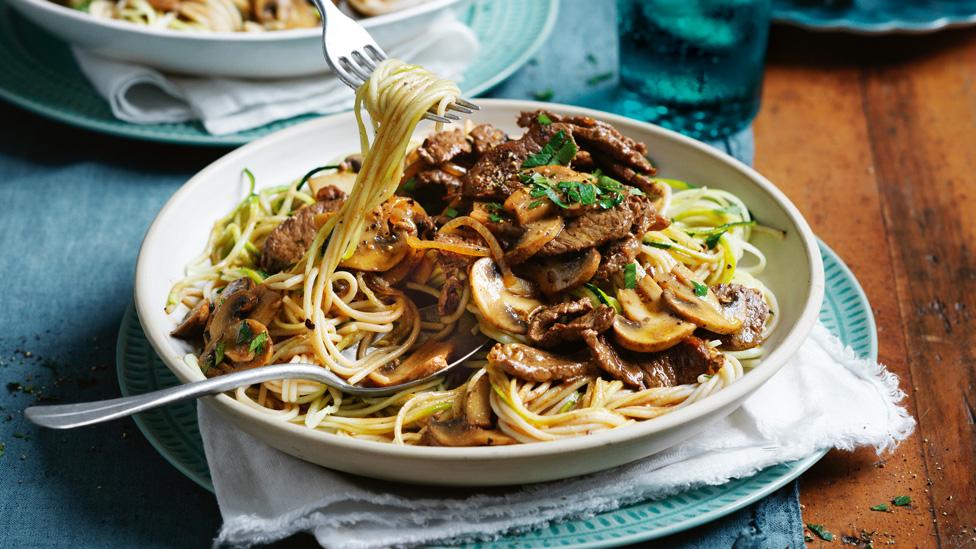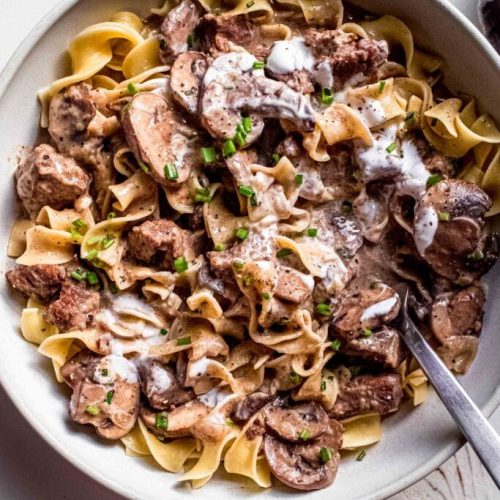 Light Beef Stroganoff
Light Beef Stroganoff will "blow you away" with it's rich, creamy, full-bodied flavor. Unlike it's "traditional" counterpart, this meal eliminates the heavy cream and butter (therefore eliminating a bunch of unnecessary fat and calories) – but the taste won't let you down! Family members and dinner guests, alike, will NEVER suspect that is a healthy dish.
Equipment
1 large nonstick skillet

1 small bowl
Ingredients
1

pound

boneless beef top sirloin steak

1

large onion, cut lengthwise and thinly sliced

½

cup

plain nonfat yogurt

½

cup

fat free sour cream

3

tablespoons

chopped chives, divided

2

tablespoons

all-purpose flour

1

tablespoon

ketchup

¼

teaspoons

Dijon mustard

¼

teaspoon

salt

⅛

teaspoon

white pepper

1

teaspoon

olive oil

6

ounces

portobello mushrooms, sliced

(or button, cremini, or baby bella)

3½

cups

wide whole wheat noodles

(or egg noodle, if you prefer)
Instructions
Cook the pasta according to the package directions; while pasta cooks, start the beef.

Cut the beef into strips or chunks and set aside.

Spray a large nonstick skillet with nonstick spray and place it over low heat; once warm add the onion and cook, stirring occasionally, for about 10 minutes (or until tender). Remove the onion from the skillet and set aside.

Combine the yogurt, sour cream, 2 tablespoons chives, flour, ketchup, mustard, salt and pepper in small bowl; set aside.

Heat the teaspoon of oil in the same skillet over medium-high heat. Add the beef and mushrooms and cook (stirring very frequently) for 3 to 4 minutes or until beef is lightly browned; return the onion to skillet with the beef and mushroom and reduce the heat to low.

Stir the yogurt mixture into the skillet until well blended and slightly thickened (about 2 minutes). Serve over the noodles, sprinkled with the remaining tablespoon of chives.
Notes
Looking to make this Light Beef Stroganoff even lighter? Swap the sour cream for Greek yogurt or a light sour cream alternative. You'll still enjoy the creamy tang without the extra calories. Give it a try and let us know how it turns out!
Cooking Tips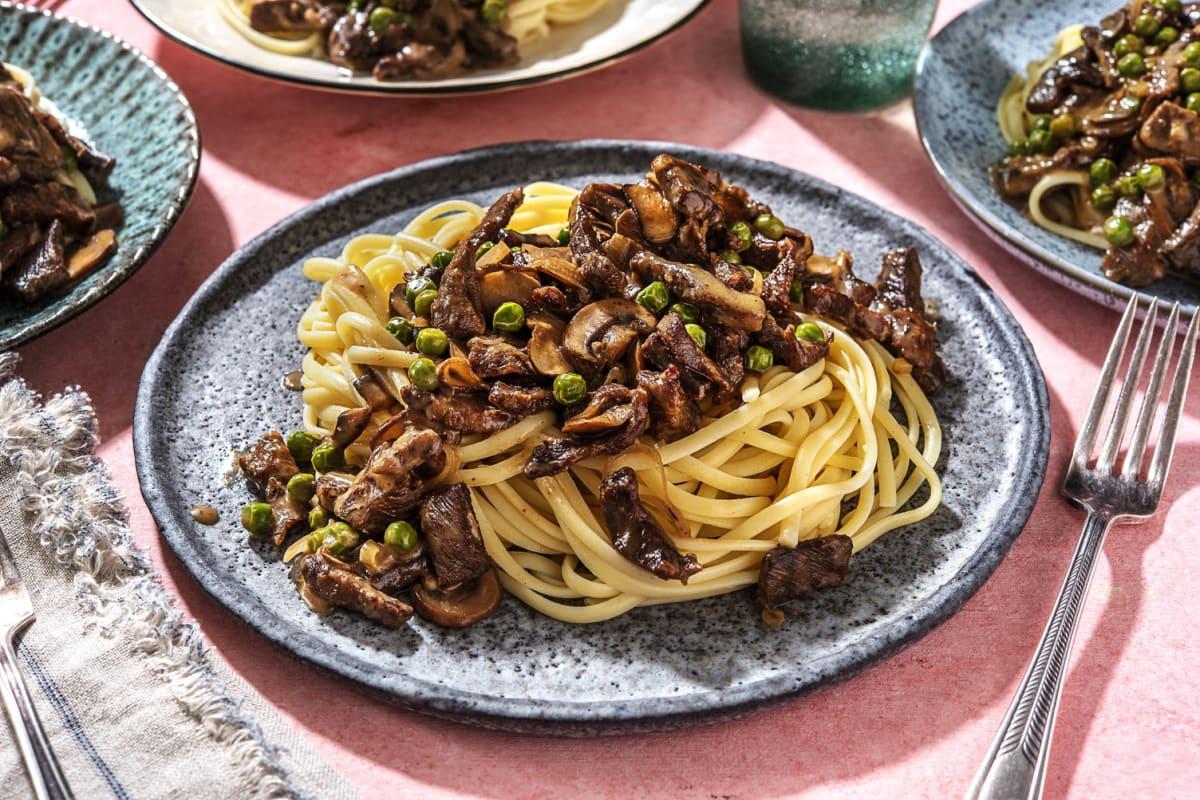 To master the art of creating a perfect Light Beef Stroganoff, it's essential to have a few tricks up your sleeve. In this section, I'll share valuable cooking tips and insights to help you achieve the best results. Whether you're a seasoned chef or a cooking enthusiast, these tips will elevate your culinary skills and ensure a delightful dining experience.
Achieving Tender Beef:
To ensure tender and succulent beef in your Light Beef Stroganoff, choose a high-quality cut like tenderloin or sirloin. Remember to slice the beef thinly against the grain for quick and even cooking. For an extra layer of tenderness, marinate the beef in a mixture of soy sauce and olive oil for 30 minutes before cooking.
Building Flavorful Sauce:
The key to a delicious Light Beef Stroganoff lies in the sauce. To enhance the flavors, sauté the onions and mushrooms until golden and caramelized before adding the beef. Use a combination of beef broth and a splash of white wine to deglaze the pan and create a rich, savory base for the sauce. Finish off with a touch of Dijon mustard and a sprinkle of fresh herbs for an extra burst of flavor.
Balancing the Creaminess:
While traditional Beef Stroganoff calls for sour cream, you can make it lighter by substituting Greek yogurt or a light sour cream alternative. Add the dairy component gradually, stirring it in gently over low heat to prevent curdling. This way, you'll achieve a creamy and velvety texture without compromising on taste.
Avoiding Overcooking:
To maintain the tenderness of the beef and prevent the sauce from becoming too thick, be mindful of cooking time. Once the beef is browned and cooked to medium-rare, remove it from the pan and set it aside. Overcooking the beef can result in tough meat, while prolonged simmering can make the sauce overly thick. Keep an eye on the cooking process to achieve the perfect balance.
Serving Suggestions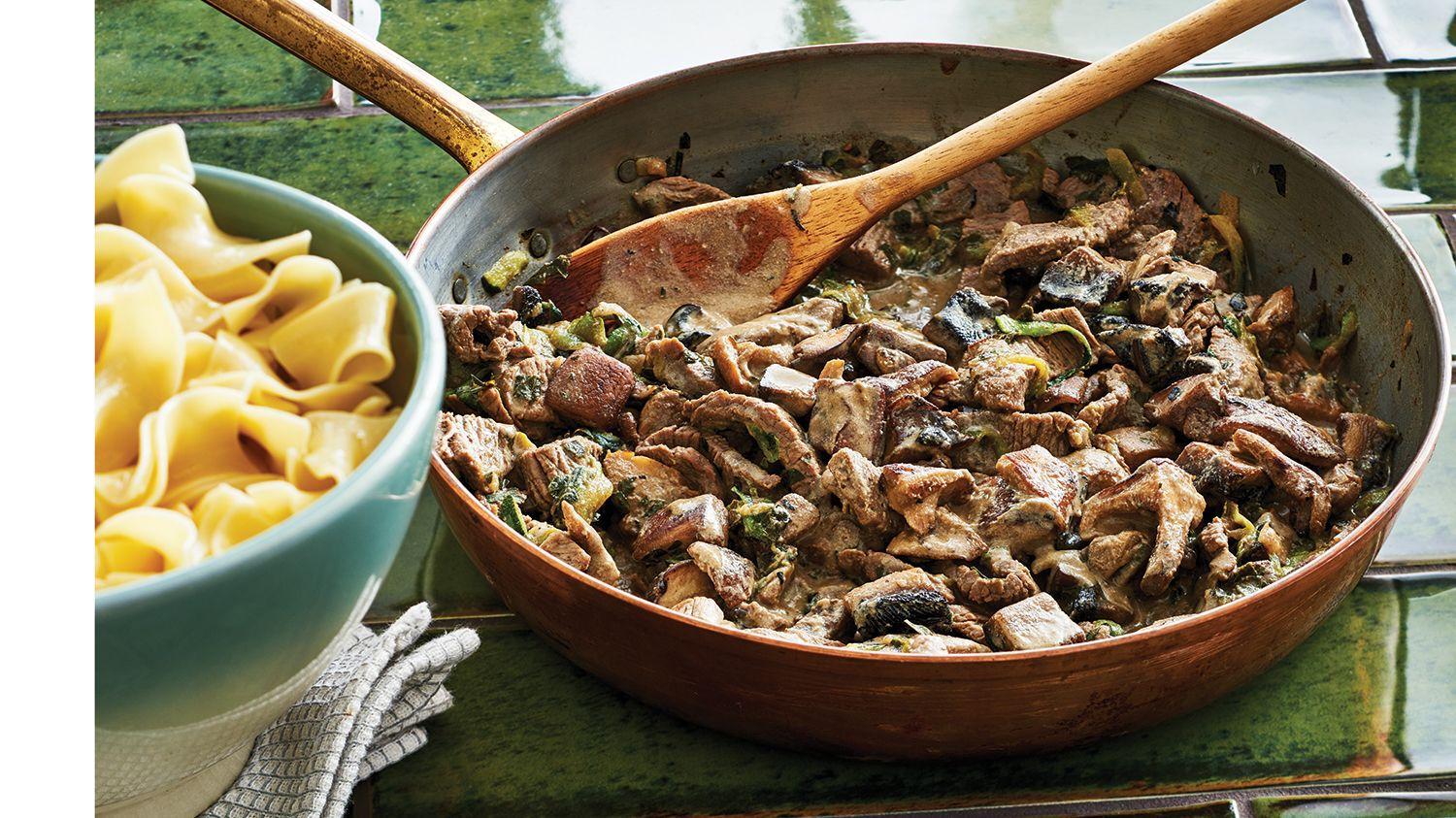 Now that you have mastered the art of cooking Light Beef Stroganoff, let's explore various ways to serve this delightful dish. From recommended sides and garnishes to complementing beverages, these serving suggestions will elevate your dining experience and impress your guests.
Ideal Occasions and Audience:
Light Beef Stroganoff is perfect for cozy family dinners, casual gatherings with friends, or even a special date night. Its comforting flavors and elegant presentation make it versatile for various occasions. It appeals to both meat lovers and those seeking a lighter, yet flavorful, dining experience.
Recommended Sides and Garnishes:
Pair your Light Beef Stroganoff with buttery egg noodles, fluffy steamed rice, or creamy mashed potatoes. The starch will absorb the delectable sauce and complete the meal. Garnish the dish with a sprinkle of fresh parsley or dill for a pop of color and added freshness. Serve with a side of steamed vegetables or a crisp green salad to balance the richness.
Creative Serving Ideas:
While traditionally served over noodles or rice, you can get creative with your presentation. Fill puff pastry shells or toasted bread cups with the beef stroganoff mixture for elegant individual servings. Alternatively, serve it over toast points or buttery crostini for a delightful appetizer. The versatility of Light Beef Stroganoff allows you to experiment and cater to your guests' preferences.
Beverage Pairings:
When it comes to beverages, consider serving Light Beef Stroganoff with a bold red wine like Merlot or Cabernet Sauvignon. The wine's tannins and fruity undertones beautifully complement the flavors of the dish. For non-alcoholic options, a refreshing cranberry spritzer or a classic iced tea with lemon would be excellent choices.
FAQs about Light Beef Stroganoff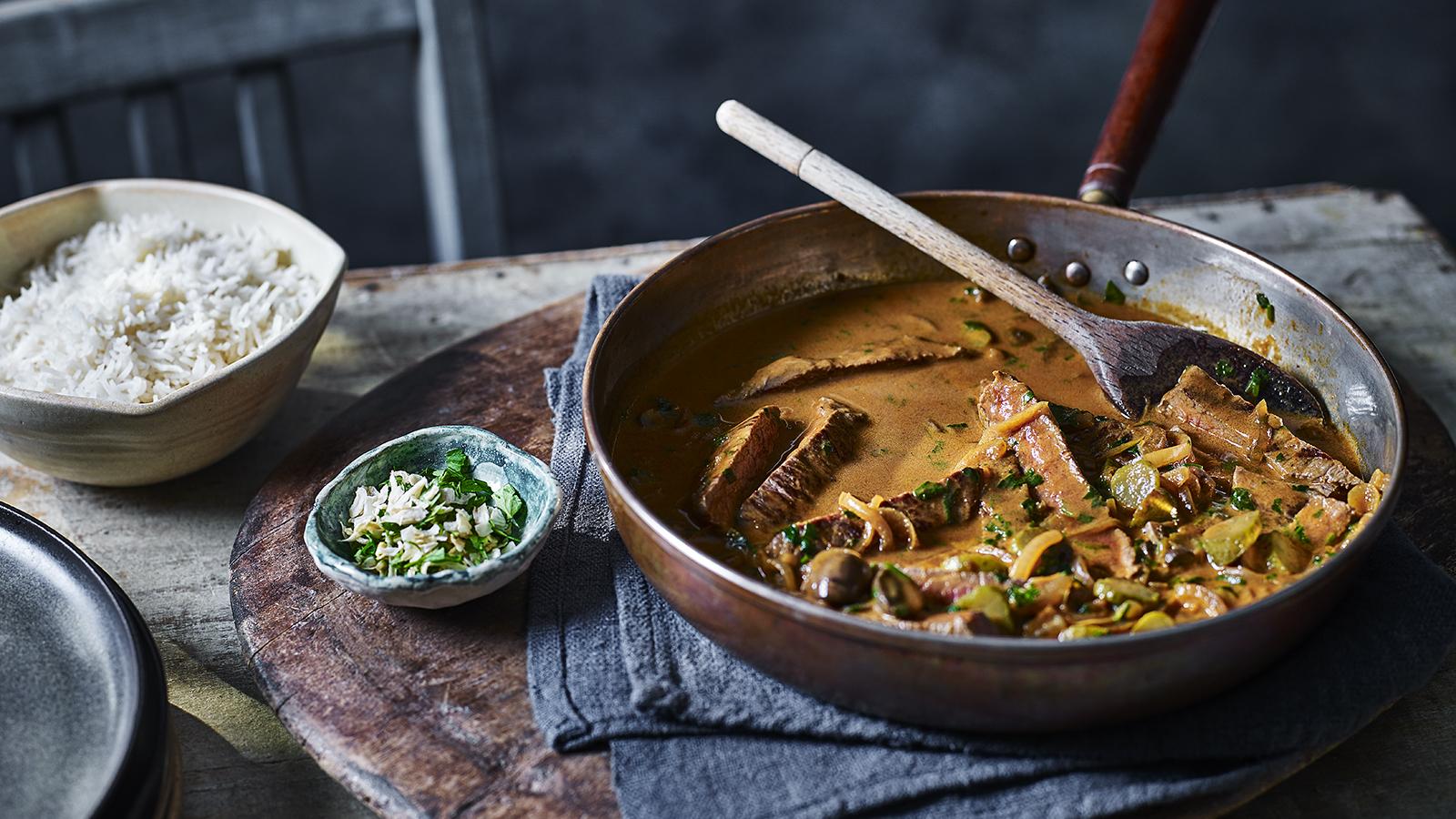 In this section, I'll address some frequently asked questions about Light Beef Stroganoff. These insights will help you navigate any uncertainties and ensure a smooth cooking experience. From storage tips to variations, let's dive into the most common queries related to this delectable dish.
Can I Make Light Beef Stroganoff Ahead of Time?
Absolutely! Light Beef Stroganoff can be prepared in advance for convenience. After cooking, let it cool to room temperature, then transfer it to an airtight container and refrigerate. It will keep well for up to 3 days. Gently reheat the stroganoff on the stovetop over low heat, adding a splash of beef broth or water to maintain its moisture.
Can I Freeze Leftover Light Beef Stroganoff?
Yes, you can freeze leftover Light Beef Stroganoff for future enjoyment. Place the cooled stroganoff in a freezer-safe container, leaving some room for expansion. It can be stored in the freezer for up to 3 months. To thaw, transfer it to the refrigerator overnight, and then remove the container to the stovetop and gently reheat over low heat, stirring occasionally.
Can I Use a Different Protein Instead of Beef?
Certainly! While beef is the traditional choice for Beef Stroganoff, you can experiment with other proteins. Try substituting the beef with chicken, turkey, or even mushrooms for a vegetarian version. Adjust the cooking time accordingly, ensuring the protein is cooked through and tender.
Can I Make Light Beef Stroganoff Gluten-Free?
Absolutely! To make Light Beef Stroganoff gluten-free, use a gluten-free flour or cornstarch to thicken the sauce. Additionally, ensure that the Worcestershire sauce and any other condiments you use are labeled gluten-free. Serve it over gluten-free noodles, rice, or quinoa for a satisfying gluten-free meal.
Can I Add Additional Vegetables to Light Beef Stroganoff?
Of course! Light Beef Stroganoff can be customized to suit your preferences. Consider adding vegetables like bell peppers, peas, or spinach to the dish. Sauté them along with the onions and mushrooms for added flavor and nutritional value. Just keep in mind that some vegetables may require different cooking times, so adjust accordingly to ensure they are cooked to perfection.
Unlock the secrets of Light Beef Stroganoff with our comprehensive guide. From pro cooking tips to creative serving ideas, this blog post has it all. Discover how to make tender beef, create a flavorful sauce, and serve this dish to impress your guests. Don't forget to share the recipe with your friends and subscribe to our blog for more delicious recipes and culinary insights.