Picture this: a warm, freshly bakedPeanut Butter Muffin, its aroma filling the air and beckoning you to take a bite. It's a scene straight out of a baking dream, and today, I'm going to show you how to turn that dream into reality. Get your aprons on and let's dive into the world of homemade goodness with this delectable recipe.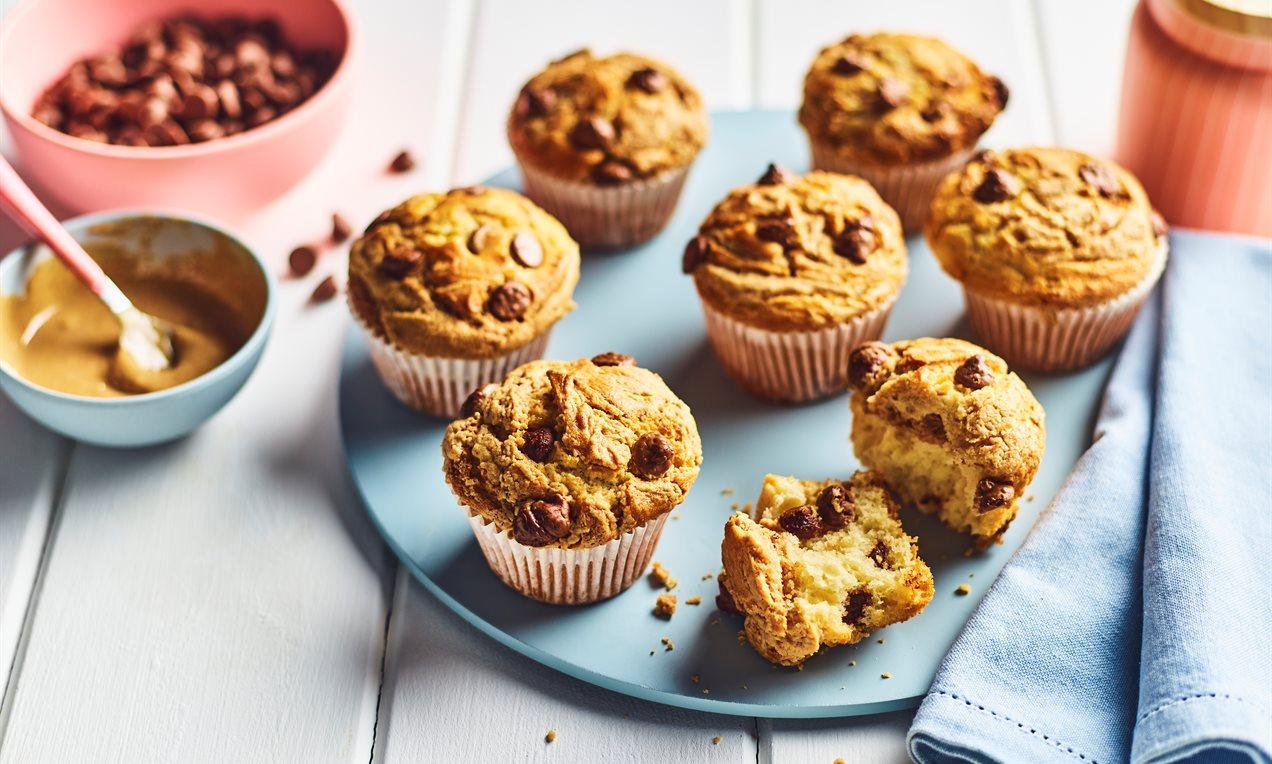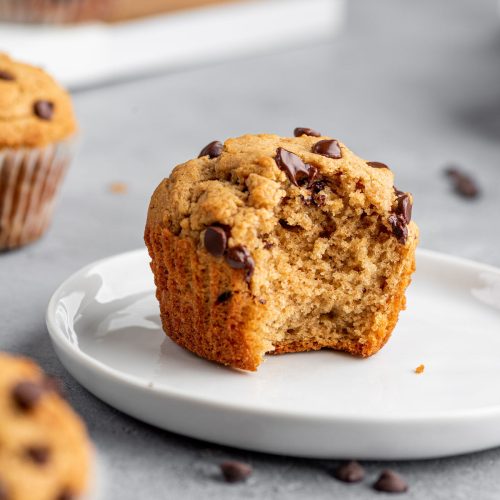 Peanut Butter Muffins
Picture this: a warm, freshly baked Peanut Butter Muffins, its aroma filling the air and beckoning you to take a bite. It's a scene straight out of a baking dream, and today, I'm going to show you how to turn that dream into reality. Get your aprons on and let's dive into the world of homemade goodness with this delectable recipe.
Equipment
muffin tins

1 large bowl

1 separate bowl
Ingredients
¾

cup

whole wheat pastry flour

¼

cup

all purpose flour

¾

cup

skim milk

⅓

cup

honey

1

cup

oats or farina

(cream of wheat)

¼

teaspoon

salt

1½

teaspoons

baking powder

3

tablespoons

applesauce

¼

cup

mini chocolate chips

(optional)

⅓

cup

peanut butter

(creamy or crunchy style)

1

egg lightly beaten
Instructions
Preheat the oven to 400 degrees and spray a 6-cup jumbo (or 12 cup standard) muffin tin with nonstick spray.

Combine the flours, oats (or farina), baking powder, and salt in a large bowl and stir well to mix.

In a separate bowl, combine the milk, honey, applesauce, peanut butter, and egg. Make a well in the center of the dry ingredients and add the wet ingredients to the well; stir just until moistened. If using chocolate chips, fold them into the batter.

Spoon the batter evenly between the muffin cups and bake for 20 to 25 minutes (or until a toothpick inserted in the center of a muffin comes out clean).
Video
Notes
Once your Peanut Butter Muffins are beautifully baked and cooled, it's time to share the love! Snap a photo of your delicious creations, tag us on social media, and spread the joy with your friends and family. Don't forget to subscribe to our newsletter for more mouthwatering recipes and baking tips. Happy baking!
Cooking Tips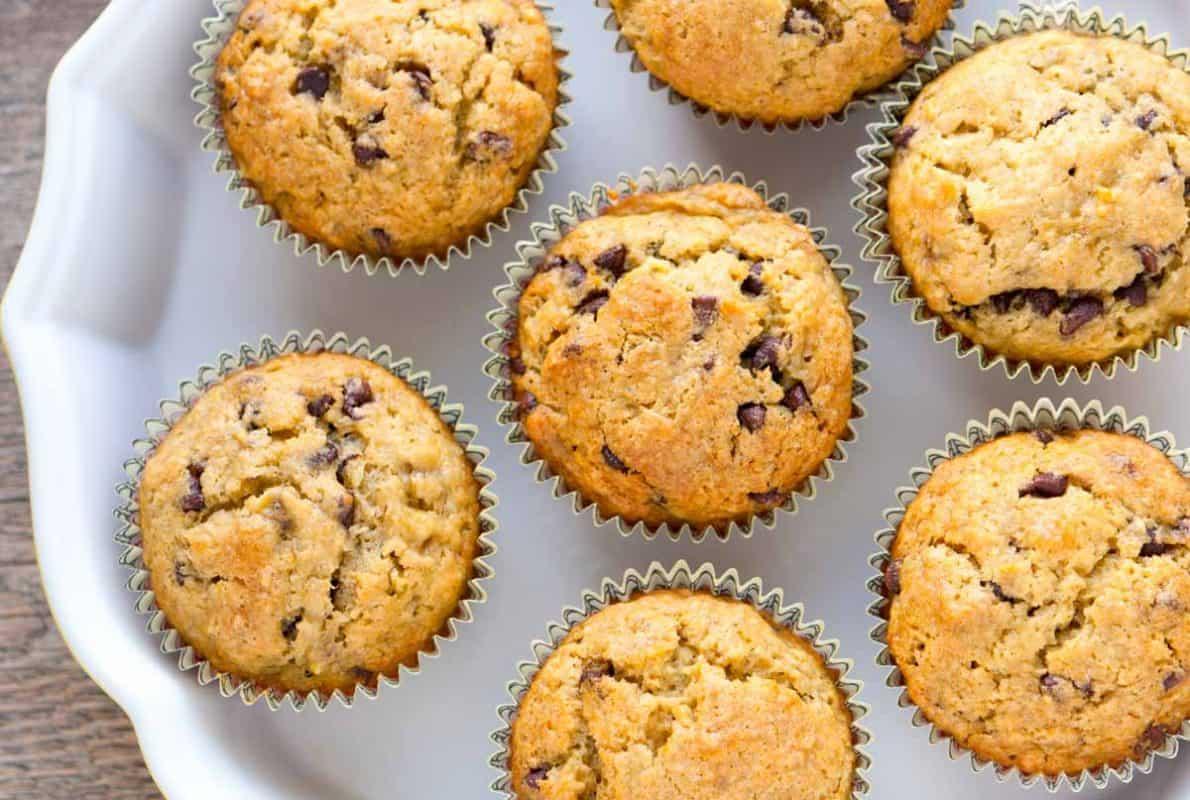 In this cooking tips section, we'll delve into the secrets of creating perfect Peanut Butter Muffins every time. From expert techniques to common pitfalls, these tips and tricks will help you achieve exceptional results. So let's roll up our sleeves, preheat the oven, and embark on a baking journey that will leave your kitchen filled with the irresistible aroma of freshly baked muffins.
Avoiding Common Mistakes: The Path to Fluffy Delight
One common mistake when making muffins is overmixing the batter. To achieve a tender and fluffy texture, gently fold the wet and dry ingredients together until just combined. Overmixing can lead to dense and tough muffins, so it's best to stop as soon as there are no visible streaks of dry ingredients. Embrace a few lumps in the batter – they will disappear during baking, resulting in beautifully textured muffins.
Achieving Evenly Baked Muffins: The Right Temperature and Timing
To ensure evenly baked Peanut Butter Muffins, it's crucial to preheat your oven to the recommended temperature stated in the recipe. This allows the muffins to rise properly and develop a golden exterior. Additionally, be mindful of the baking time. Start checking for doneness a couple of minutes before the suggested time to avoid overbaking. A toothpick inserted into the center should come out with a few moist crumbs clinging to it, indicating perfectly baked muffins.
Enhancing the Peanut Butter Flavor: Tips and Tricks
To intensify the peanut butter flavor in your muffins, consider using natural peanut butter instead of the processed variety. Natural peanut butter tends to have a more robust taste, resulting in muffins with a richer peanut butter profile. Additionally, you can add a handful of chopped roasted peanuts to the batter for a delightful crunch and added nuttiness. Remember to adjust the sweetness level accordingly if using unsweetened peanut butter.
Serving Suggestions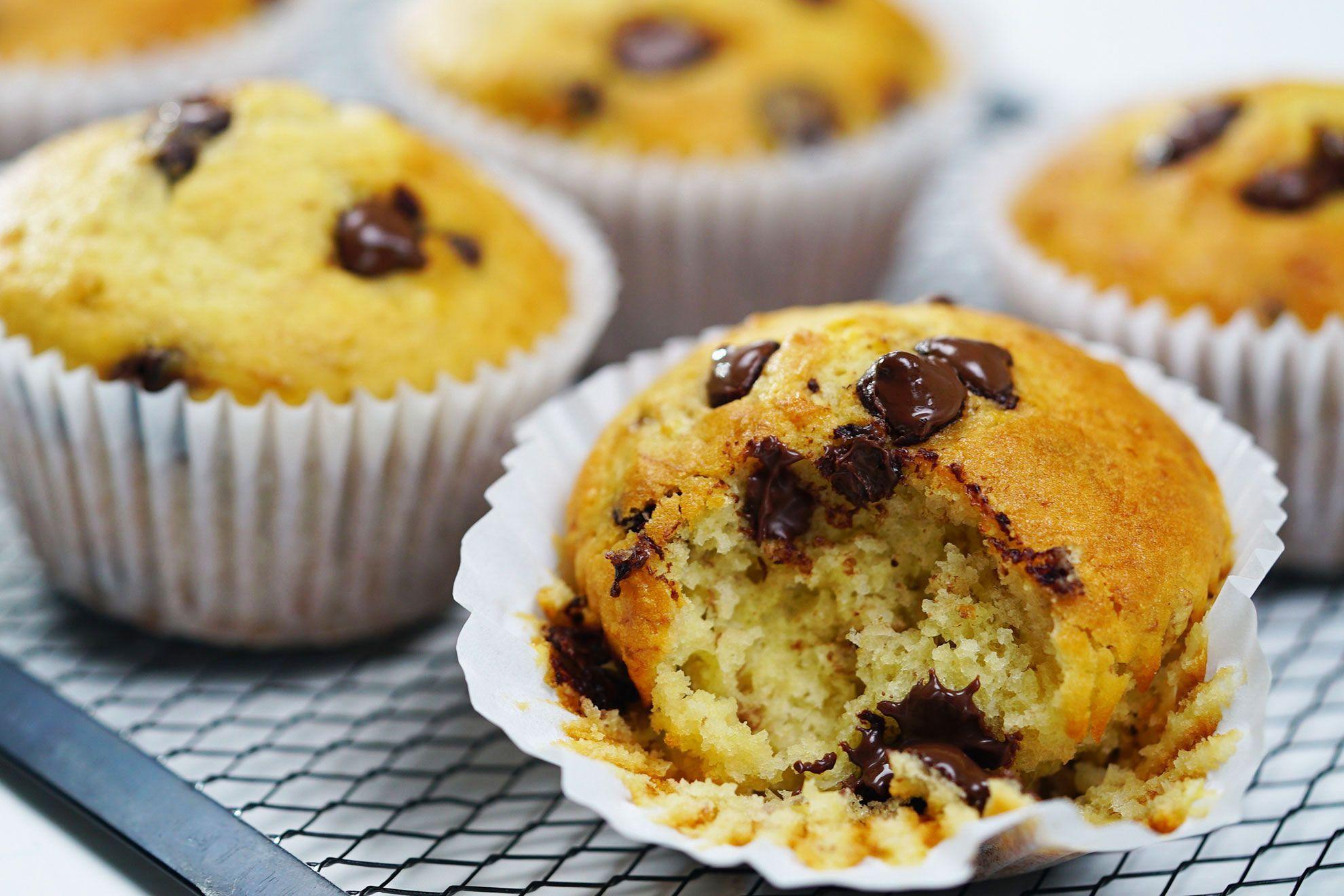 Welcome to the serving suggestions section, where we explore creative ways to enjoy your freshly baked Peanut Butter Muffins. From pairing suggestions to innovative presentations, we've got you covered. Whether you're serving these muffins for breakfast, as a snack, or as a dessert, these recommendations will take your culinary adventure to new heights. Let's dive in and discover the delightful possibilities!
When to Serve Peanut Butter Muffins: A Versatile Delight
Peanut Butter Muffins are a versatile treat that can be enjoyed at various times of the day. Start your morning off on a sweet note by serving them warm for breakfast alongside a cup of freshly brewed coffee or a glass of cold milk. They also make a fantastic mid-day pick-me-up or an afternoon snack to satisfy those cravings. And don't forget about dessert! These muffins can be transformed into a decadent treat when paired with a scoop of vanilla ice cream or a drizzle of chocolate sauce.
Recommended Sides, Garnishes, and Beverages: Complementing the Flavors
To enhance the flavors of your Peanut Butter Muffins, consider serving them with a few complementary sides and garnishes. A dollop of creamy peanut butter spread on top of a warm muffin adds an extra layer of richness. Freshly sliced bananas or a sprinkle of chopped roasted peanuts provide a delightful crunch and a burst of flavor. If you're looking for a beverage pairing, a tall glass of cold milk, a warm cup of tea, or even a fruity iced tea can perfectly complement the sweet and nutty taste of the muffins.
Creative Ways to Serve: Beyond the Basic Muffin
While Peanut Butter Muffins are delicious on their own, there are plenty of creative ways to serve them to impress your guests or add a touch of variety. Consider slicing the muffins in half horizontally and toasting them before spreading a layer of Nutella or raspberry jam in between. This creates a delightful muffin sandwich that will surprise and delight. You can also crumble the muffins and use them as a topping for yogurt or ice cream, adding a delightful texture and flavor twist. Another option is to transform them into a bread pudding by layering them with a custard mixture and baking until golden and set. The possibilities are endless, so let your imagination run wild and enjoy the versatility of these delectable muffins.
FAQs about Peanut Butter Muffins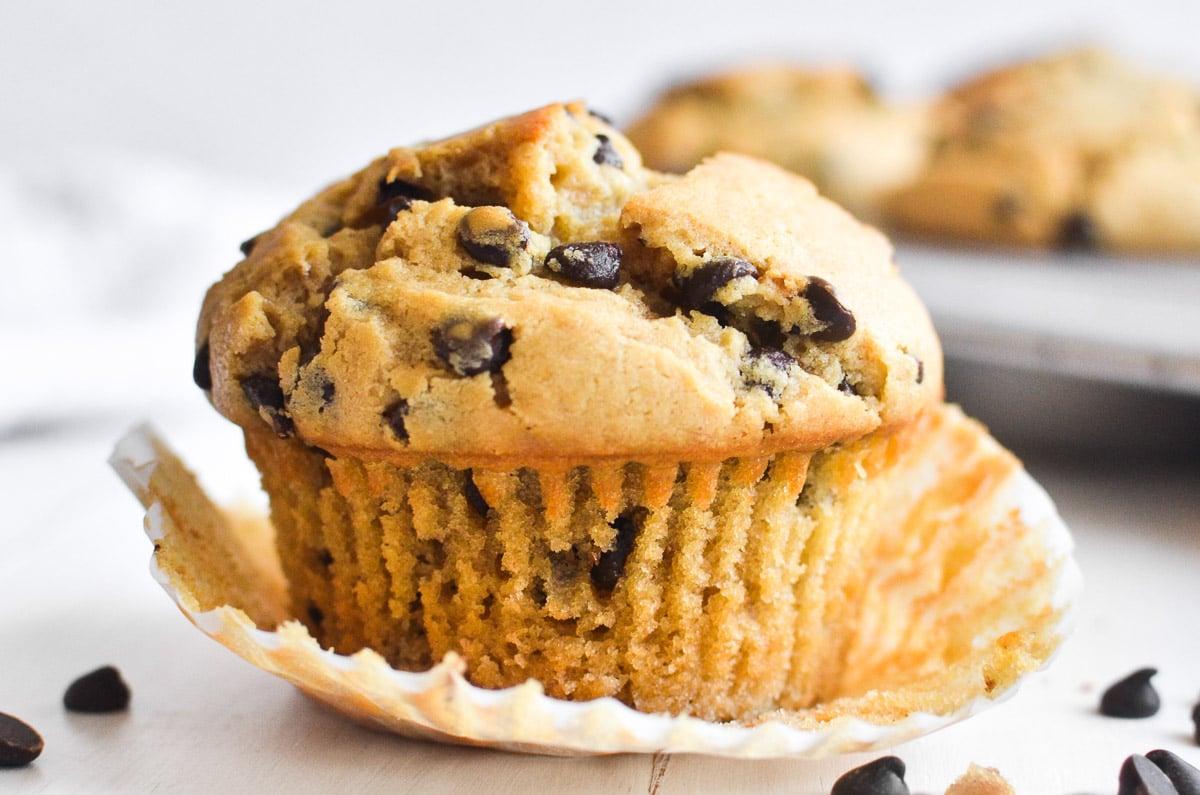 In this FAQs section, we address common questions that may arise while baking Peanut Butter Muffins. From storage tips to ingredient substitutions, we've got the answers to help you navigate through your baking journey. Let's dive in and clear up any uncertainties you may have.
Can I store leftover?
Yes, absolutely! To store your leftover Peanut Butter Muffins, allow them to cool completely, then place them in an airtight container or sealable bag. They can be stored at room temperature for up to 3 days. For longer storage, you can refrigerate them for up to a week. To enjoy them at their best, consider reheating them briefly in a microwave or toaster oven before serving.
Can I substitute the peanut butter with another nut butter?
Certainly! If you have a preference for a different nut butter, such as almond butter or cashew butter, you can absolutely substitute it in this recipe. Keep in mind that the flavor and texture may vary slightly, but it will still result in delicious muffins. Just ensure that the nut butter you choose has a similar consistency to peanut butter.
Can I make these muffins gluten-free?
Absolutely! To make Peanut Butter Muffins gluten-free, you can use a gluten-free all-purpose flour blend instead of regular all-purpose flour. Additionally, ensure that all other ingredients, such as baking powder and baking soda, are also labeled gluten-free. Follow the recipe instructions as usual, and you'll have delightful gluten-free muffins to enjoy.
Can I add other mix-ins to the muffins?
Definitely! While Peanut Butter Muffins are fantastic on their own, you can get creative and add other mix-ins for added flavor and texture. Consider stirring in a handful of chocolate chips, dried fruit, or even shredded coconut into the batter before baking. Just keep in mind that the additional ingredients may affect the baking time, so make sure to adjust accordingly.
Can I freeze the muffins for later?
Absolutely! Peanut Butter Muffins can be easily frozen for later enjoyment. Once they have cooled completely, individually wrap each muffin tightly in plastic wrap or place them in a freezer-safe bag. They can be frozen for up to 3 months. When ready to enjoy, thaw the muffins at room temperature or reheat them in the microwave or oven until warm.
Embark on a baking adventure with our guide to Peanut Butter Muffins. Delight in serving suggestions that cater to every occasion, from breakfast to dessert. Uncover the secrets to baking perfect muffins with our expert tips, ensuring a fluffy and flavorful outcome. Addressing your baking curiosities, our FAQs section provides answers to common questions.