Buen provecho! Today, I invite you to discover the magic of Spanish cuisine with a delightful recipe that will awaken your taste buds. Say "hola" to the Spanish Vegetable Casserole – a dish that celebrates the bountiful harvest of fresh vegetables and showcases the flavors that make Spanish food so irresistible.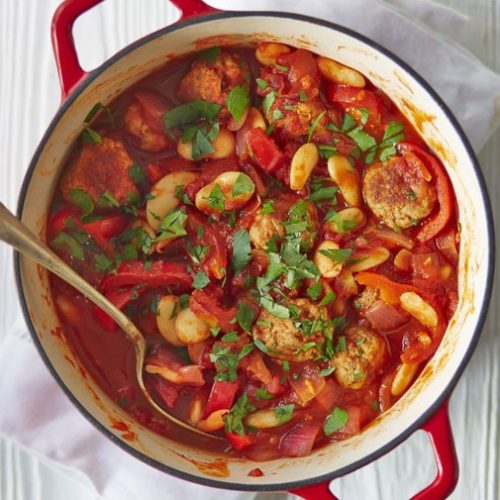 Spanish Vegetable Casserole
Buen provecho! Today, I invite you to discover the magic of Spanish cuisine with a delightful recipe that will awaken your taste buds. Say "hola" to the Spanish Vegetable Casserole – a dish that celebrates the bountiful harvest of fresh vegetables and showcases the flavors that make Spanish food so irresistible.
Ingredients
1

tablespoon

extra virgin

1

medium red onion, chopped

1

garlic clove, minced

1

large tomato, chopped

1

large red or green pepper, chopped

1

large potato, diced

½

teaspoon

paprika

¼

teaspoon

cayenne pepper

(you can add more if you like it hot)

1

cup

long-grain rice

2

cups

low sodium chicken broth

1

large zucchini (or yellow squash) cut into chunks or rounds

2

large carrots, cut into chunks

2

cups

green peas

(I replace the peas with chickpeas [garbanzo beans] – or you could use 1 cup of each)
Instructions
In a large sauce pan heat the olive oil over medium heat for about 1 minute. Add the onion and garlic and stir for 1 minute.

Mix in the tomato and green or red pepper, and cook for another 3 minutes. Add the potato, paprika and cayenne pepper and cook for 2 minutes longer.

Stir in the rice and chicken broth and bring to a boil, then reduce the heat to a simmer; cover and simmer for 15 minutes, or until the rice has absorbed most of the broth.

Stir in the zucchini, carrots, and peas; cover again and simmer for another 10 minutes.
Notes
Customize Your Casserole: Feel free to experiment with the vegetables in this recipe. Add your personal touch by including bell peppers, zucchini, or any other seasonal produce that catches your eye. The more colorful, the better!
Alternative Method: Pressure Cooker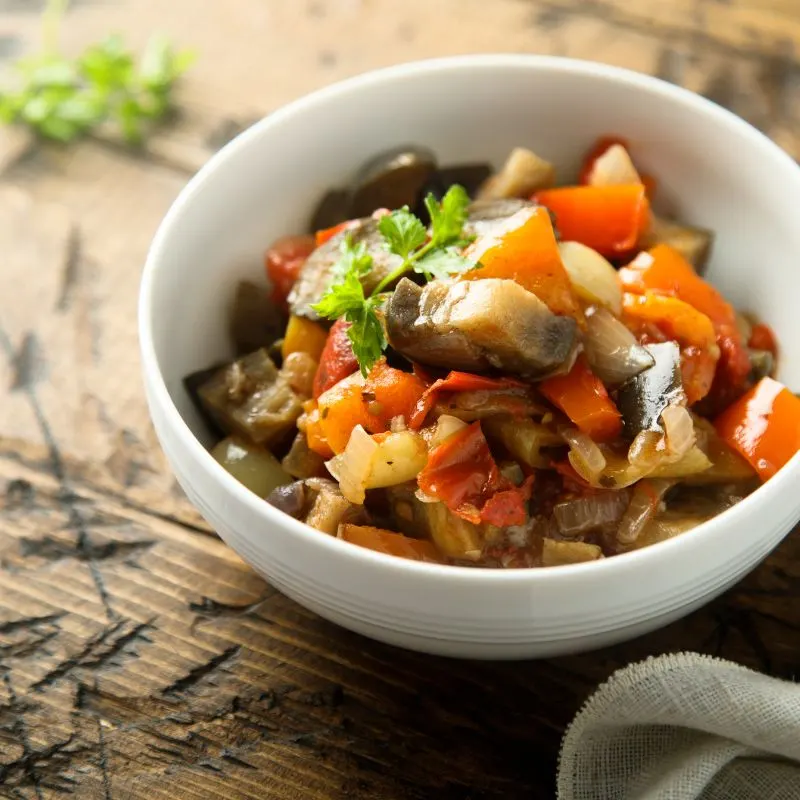 If you're looking for a quicker way to prepare the Spanish Vegetable Casserole without compromising on flavor, using a pressure cooker is the perfect alternative. Here's how you can make this mouthwatering dish using a pressure cooker:
Ingredients:
2 tablespoons olive oil
1 onion, diced
3 cloves of garlic, minced
1 red bell pepper, sliced
1 yellow bell pepper, sliced
1 zucchini, sliced
1 eggplant, cubed
2 tomatoes, diced
1 cup vegetable broth
1 teaspoon smoked paprika
1 teaspoon ground cumin
1 teaspoon dried oregano
Salt and pepper to taste
Fresh parsley or cilantro, chopped (for garnish)
Instructions:
Set your pressure cooker to the sauté function and heat the olive oil. Add the diced onion and minced garlic, and sauté until they turn translucent and fragrant.
Add the sliced red and yellow bell peppers, zucchini, and cubed eggplant to the pressure cooker. Sauté for a few minutes until the vegetables start to soften.
Sprinkle the smoked paprika, ground cumin, dried oregano, salt, and pepper over the vegetables. Stir well to coat the vegetables evenly with the spices.
Pour in the diced tomatoes and vegetable broth. Give it a good stir to combine all the ingredients.
Close the pressure cooker lid securely and set it to high pressure. Cook for 10 minutes under high pressure.
Once the cooking time is complete, carefully release the pressure according to the manufacturer's instructions.
Open the lid and give the vegetable casserole a gentle stir. Adjust the seasoning if needed.
Serve the Spanish Vegetable Casserole hot, garnished with fresh parsley or cilantro.
By using a pressure cooker, you can enjoy the flavors of this Spanish Vegetable Casserole in a fraction of the time. The pressure cooking process helps to lock in the flavors and tenderize the vegetables, resulting in a deliciously comforting dish that will satisfy your cravings.
Cooking Tips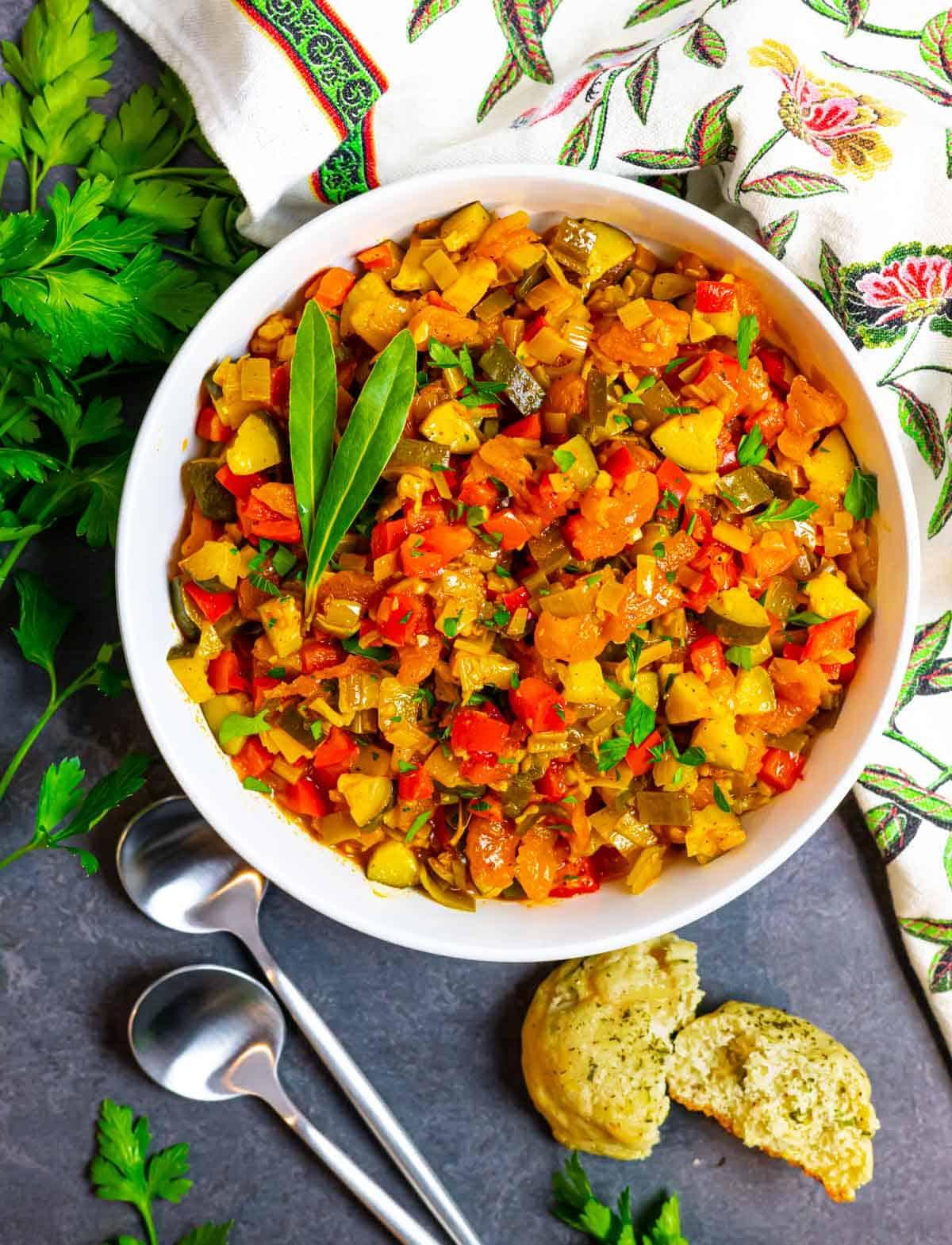 To ensure the best results with your Spanish Vegetable Casserole, here are some valuable cooking tips and insights to keep in mind:
Tips and Tricks for the Best Results:
Preheat your oven before baking the casserole to ensure even cooking and proper texture.
Sauté the onions and garlic until they turn translucent and develop a sweet aroma before adding the other vegetables. This will enhance the overall flavor profile of the dish.
For a deeper flavor, consider roasting some of the vegetables before adding them to the casserole. This technique will intensify their natural sweetness and add a delightful smokiness.
Experiment with different herbs and spices to tailor the flavor to your preference. Spanish cuisine often incorporates paprika, cumin, and oregano for a distinctive taste.
Insights on Common Mistakes to Avoid:
Avoid overcrowding the casserole dish, as it may result in uneven cooking and a mushy texture. Ensure that the vegetables are spread out in a single layer to allow for proper caramelization and crispness.
Be mindful of the cooking time for each vegetable. Softer vegetables like zucchini and eggplant may require less time in the oven compared to denser ones like potatoes and carrots. Adjust the cooking time accordingly to achieve the desired texture.
Don't overcook the vegetables, as they should retain a slight bite and vibrant color. Keep an eye on the casserole while it bakes, and test the doneness of the vegetables with a fork or knife.
Serving & Storing Your Spanish Vegetable Casserole.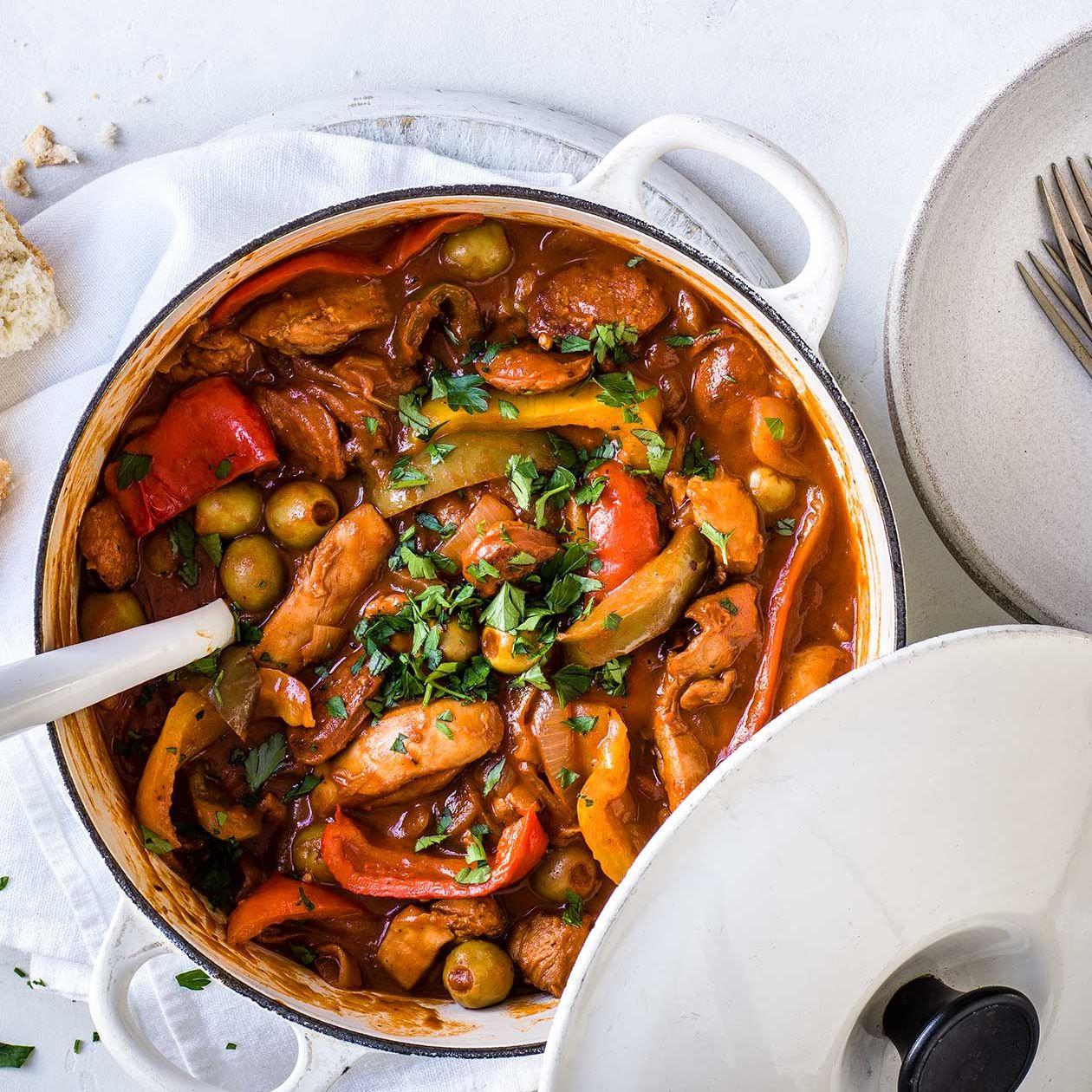 When it comes to serving the delightful Spanish Vegetable Casserole, there are endless possibilities to explore. Here are some ideas to inspire your culinary creativity:
Recommend Sides, Garnishes, or Beverages that Complement the Flavors:
Serve the casserole with a side of crusty bread or warm, fluffy tortillas for a satisfying meal.
Sprinkle some freshly chopped parsley or cilantro on top to add a burst of freshness and color.
For a touch of creaminess, offer a dollop of tangy Greek yogurt or a drizzle of extra-virgin olive oil as a garnish.
Pair this flavorful dish with a refreshing Spanish sangria or a glass of fruity red wine to enhance the dining experience.
Suggest Different Ways to Serve the Dish:
Serve the Spanish Vegetable Casserole as a main course for a vegetarian feast, accompanied by a crisp green salad.
Use it as a delicious filling for warm tortillas or as a topping for crusty bruschetta for a tasty appetizer.
Transform leftovers into a satisfying breakfast by reheating the casserole and topping it with a fried or poached egg.
Pack a portion of the casserole in your lunchbox, along with some crusty bread, for a flavorful and nutritious workday meal.
FAQs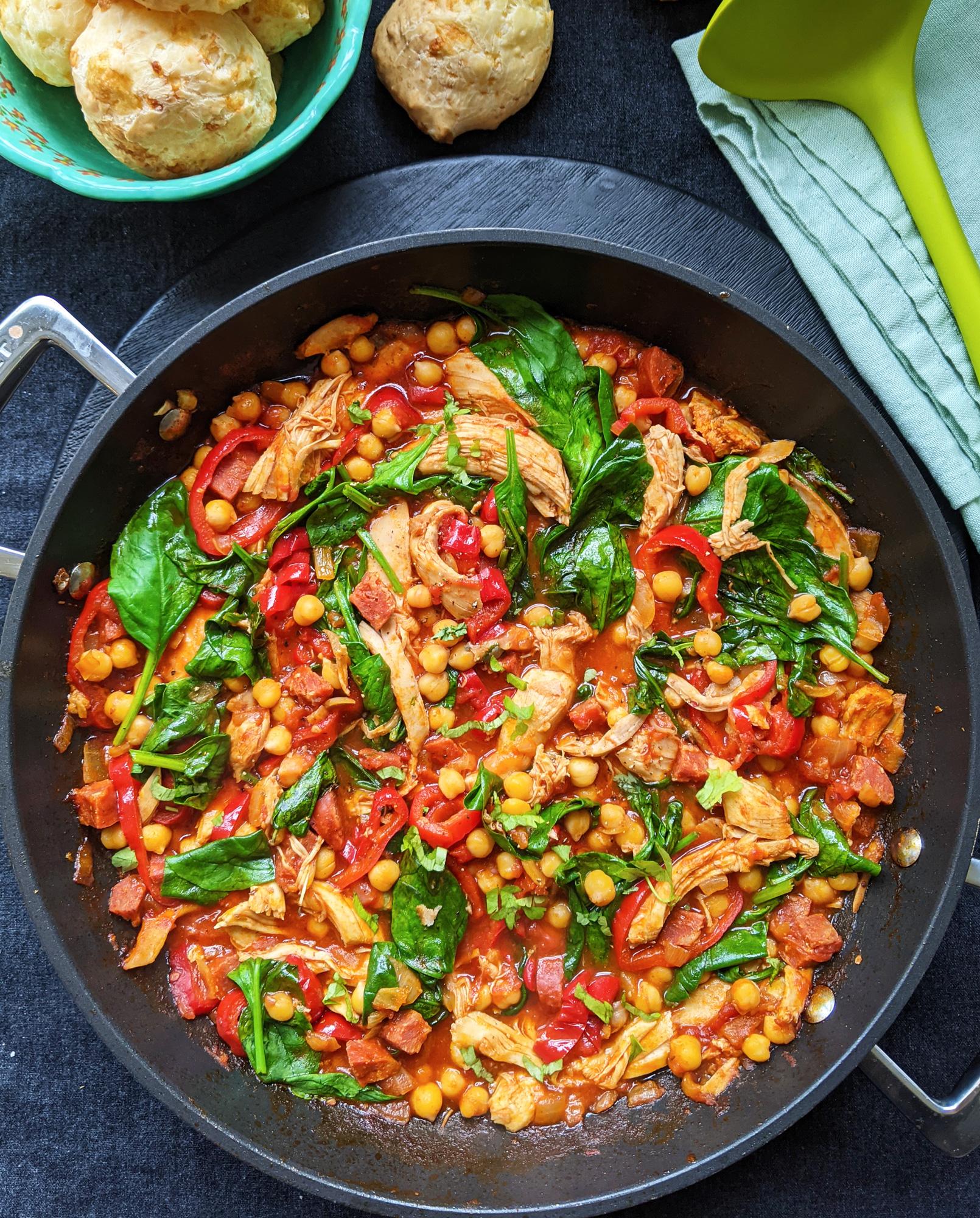 Can I prepare the Spanish Vegetable Casserole in advance?
Absolutely! This casserole is a great make-ahead dish. Prepare the casserole as instructed, cover it tightly, and refrigerate it for up to 24 hours. When you're ready to enjoy it, simply bake it in the preheated oven until heated through.
Can I freeze the Spanish Vegetable Casserole?
Yes, you can freeze the casserole for future meals. Make sure to let it cool completely before transferring it to an airtight, freezer-safe container. It can be stored in the freezer for up to 3 months. Thaw it overnight in the refrigerator before reheating in the oven.
How long can I store leftovers?
Any leftover Spanish Vegetable Casserole can be stored in an airtight container in the refrigerator for up to 3 days. Reheat individual portions in the microwave or warm in the oven until heated through before serving.
Can I add meat or protein to the casserole?
Certainly! If you desire a heartier version, you can add cooked chicken, chorizo, or even shrimp to the casserole. Simply incorporate them with the vegetables before baking.
Can I adjust the spiciness level of the casserole?
Absolutely! Feel free to adjust the spiciness to your liking. If you prefer a milder version, reduce the amount of hot spices like chili powder or cayenne pepper. Alternatively, if you enjoy a kick of heat, add a pinch of red pepper flakes or a dash of hot sauce.
Discover the magic of Spanish cuisine with our delectable Vegetable Casserole recipe. Perfectly seasoned and brimming with colorful vegetables, this dish will transport you to the sunny streets of Spain. Don't forget to share this recipe with others and subscribe to our blog for more Spanish culinary adventures.