Prepare to be amazed by the incredible combination of flavors in this Easy Low-Fat Peach Crisp recipe. As an experienced chef and food blogger, I'm always on the lookout for healthy and delicious options. Today, I'm sharing a dessert that's not only easy to make but also low in fat. Get ready to indulge guilt-free!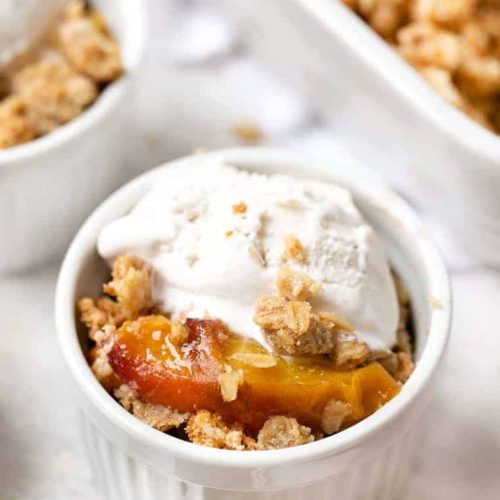 Easy Low-Fat Peach Crisp
Prepare to be amazed by the incredible combination of flavors in this Easy Low-Fat Peach Crisp recipe. As an experienced chef and food blogger, I'm always on the lookout for healthy and delicious options. Today, I'm sharing a dessert that's not only easy to make but also low in fat. Get ready to indulge guilt-free!
Ingredients
3-4

cups

fresh peaches, sliced

2

tablespoons

cornstarch

2

teaspoons

lemon juice

½

teaspoon

grated lemon rind

½

cup

granulated sugar

½

cup

whole wheat pastry flour

½

teaspoon

ground cinnamon

¼

teaspoon

ground cloves

3

tablespoons

unsalted butter (or margarine), at room temperature

½

cup

rolled oats

(quick cooking oats will work fine)
Instructions
Preheat the oven to 375 degrees and lightly toss the peaches in the cornstarch; place the peaches in 8 an inch baking dish that has been lightly sprayed with nonstick cooking spray.

Sprinkle lemon juice and lemon rind over the peach/cornstarch mixture.

Mix the sugar, flour, cinnamon, and cloves until well combined; stir in the oats and butter and mix until you have coarse crumbs.

Sprinkle this mixture over the peaches and bake for 45 minutes (or until top is golden brown.) Serve with fat free peach or vanilla frozen yogurt.
Notes
Customize the Crisp: Feel free to experiment with different fruits such as apples or berries instead of peaches. The crisp topping works well with a variety of fruits, so don't hesitate to get creative and use what you have on hand.
Alternative Method: Instant Pot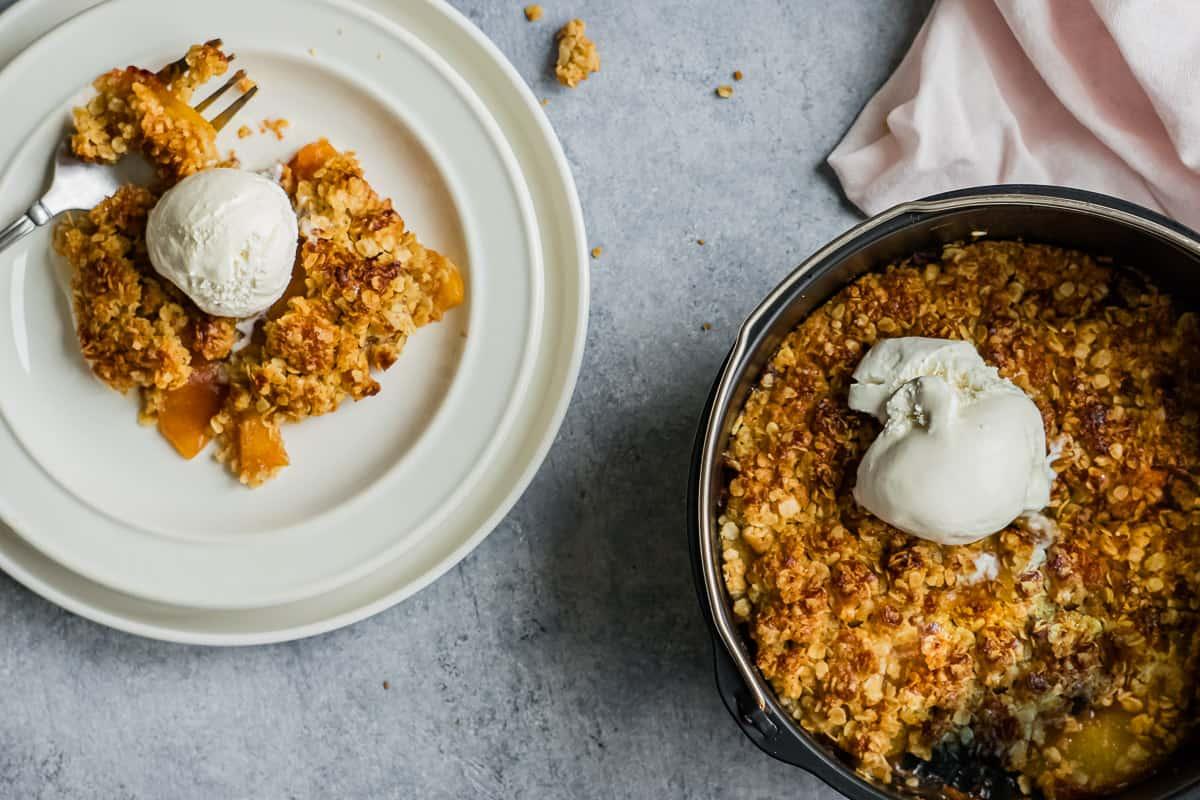 If you're looking for a hands-off and time-saving method to make the Easy Low-Fat Peach Crisp, look no further than your trusty Instant Pot! This versatile kitchen appliance can effortlessly create a delicious dessert with minimal effort. Here's how to make the Instant Pot Easy Low-Fat Peach Crisp:
Ingredients:
4 ripe peaches, peeled and sliced
1 tablespoon lemon juice
1/4 cup granulated sugar
1/2 teaspoon ground cinnamon
1/2 cup old-fashioned oats
1/4 cup all-purpose flour
2 tablespoons brown sugar
2 tablespoons cold unsalted butter, cubed
1/4 cup chopped nuts (optional)
Instructions:
In a bowl, combine the sliced peaches, lemon juice, granulated sugar, and ground cinnamon. Toss gently to coat the peaches evenly.
In a separate bowl, mix the oats, all-purpose flour, brown sugar, and cold cubed butter. Use your fingers or a fork to work the butter into the dry ingredients until crumbly. Stir in the chopped nuts if desired.
Grease a heatproof dish that fits inside your Instant Pot. Transfer the peach mixture into the dish, spreading it out evenly.
Sprinkle the oat topping over the peaches, covering them completely.
Pour 1 cup of water into the Instant Pot insert. Place a trivet or a heatproof stand inside the pot.
Carefully lower the dish with the peach crisp onto the trivet inside the Instant Pot.
Close the Instant Pot lid, ensuring the valve is set to the sealing position. Select the "Manual" or "Pressure Cook" mode and set the cooking time for 12 minutes at high pressure.
Once the cooking time is complete, allow for a natural pressure release for about 10 minutes, then perform a quick pressure release to release any remaining pressure.
Carefully remove the dish from the Instant Pot using oven mitts or tongs. Be cautious as it will be hot.
Let the peach crisp cool for a few minutes before serving. Serve it warm on its own or with a scoop of vanilla ice cream for an extra treat.
By using the Instant Pot, you can enjoy a delectable Easy Low-Fat Peach Crisp with tender peaches and a crispy topping in a fraction of the time. It's a hassle-free method that yields fantastic results, perfect for satisfying your dessert cravings with ease.
Cooking Tips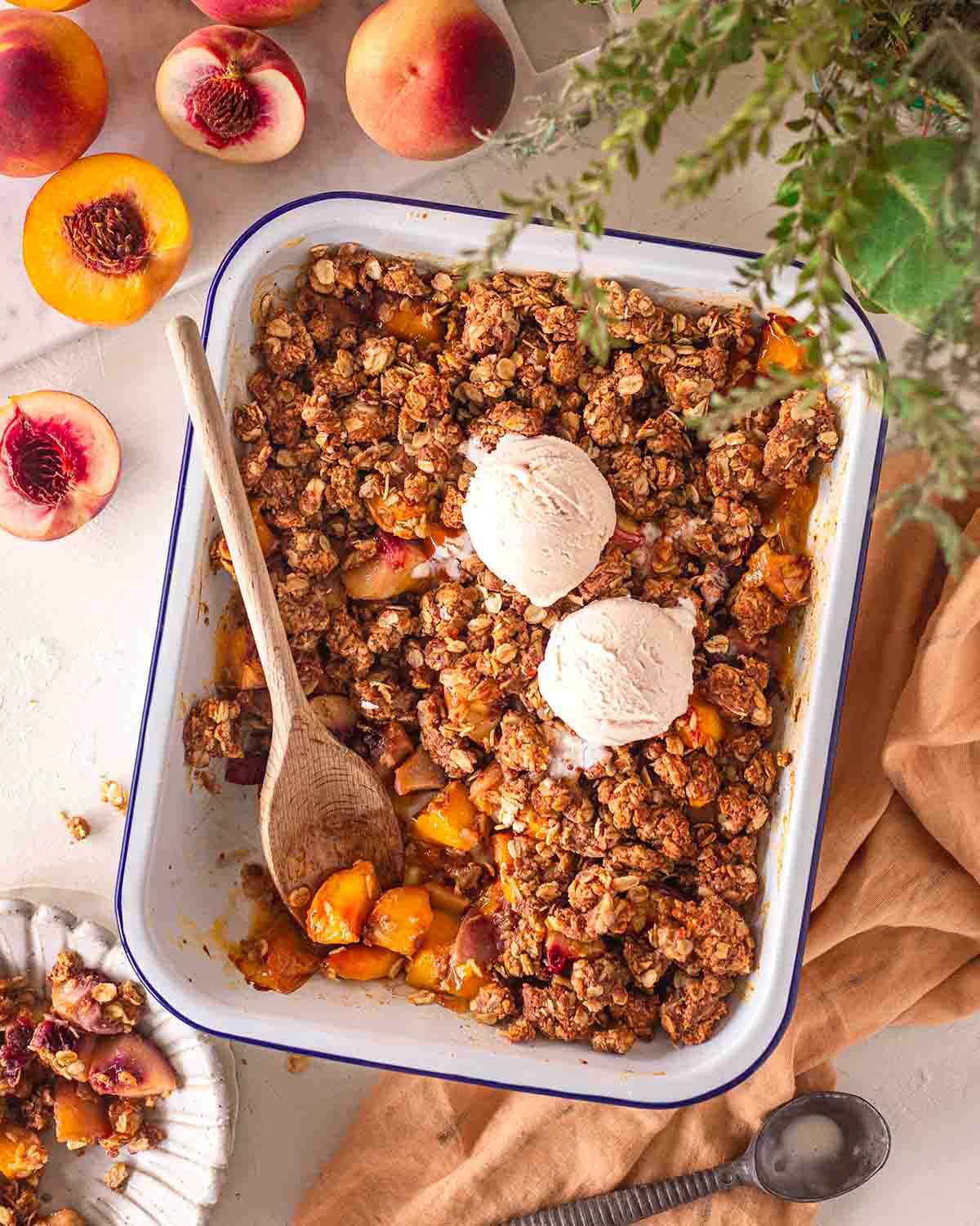 Use Ripe and Juicy Peaches: To ensure the best flavor in your peach crisp, choose ripe peaches that are fragrant and slightly soft to the touch. The natural sweetness and juiciness of ripe peaches will enhance the overall taste of the dessert.
Opt for Old-Fashioned Oats: When preparing the crisp topping, go for old-fashioned oats instead of quick oats. The texture of old-fashioned oats adds a delightful crunch to the crisp, creating a perfect contrast with the tender peaches.
Enhance the Flavor with Spices: Don't be afraid to experiment with spices. Adding a pinch of cinnamon or nutmeg to the peach filling can elevate the taste and provide a warm, comforting aroma.
Don't Overload the Topping: While it's tempting to pile on the crisp topping, be mindful not to overload it. The fruit-to-topping ratio should be balanced, allowing the peaches to shine through while still enjoying the crunchy goodness of the crisp.
Bake Until Golden and Bubbly: Keep an eye on your peach crisp while it bakes. You want the topping to turn golden brown and the filling to become bubbly. This ensures that the flavors meld together perfectly and the texture is just right.
The Best Ways To Serve And Enjoy Easy Low-Fat Peach Crisp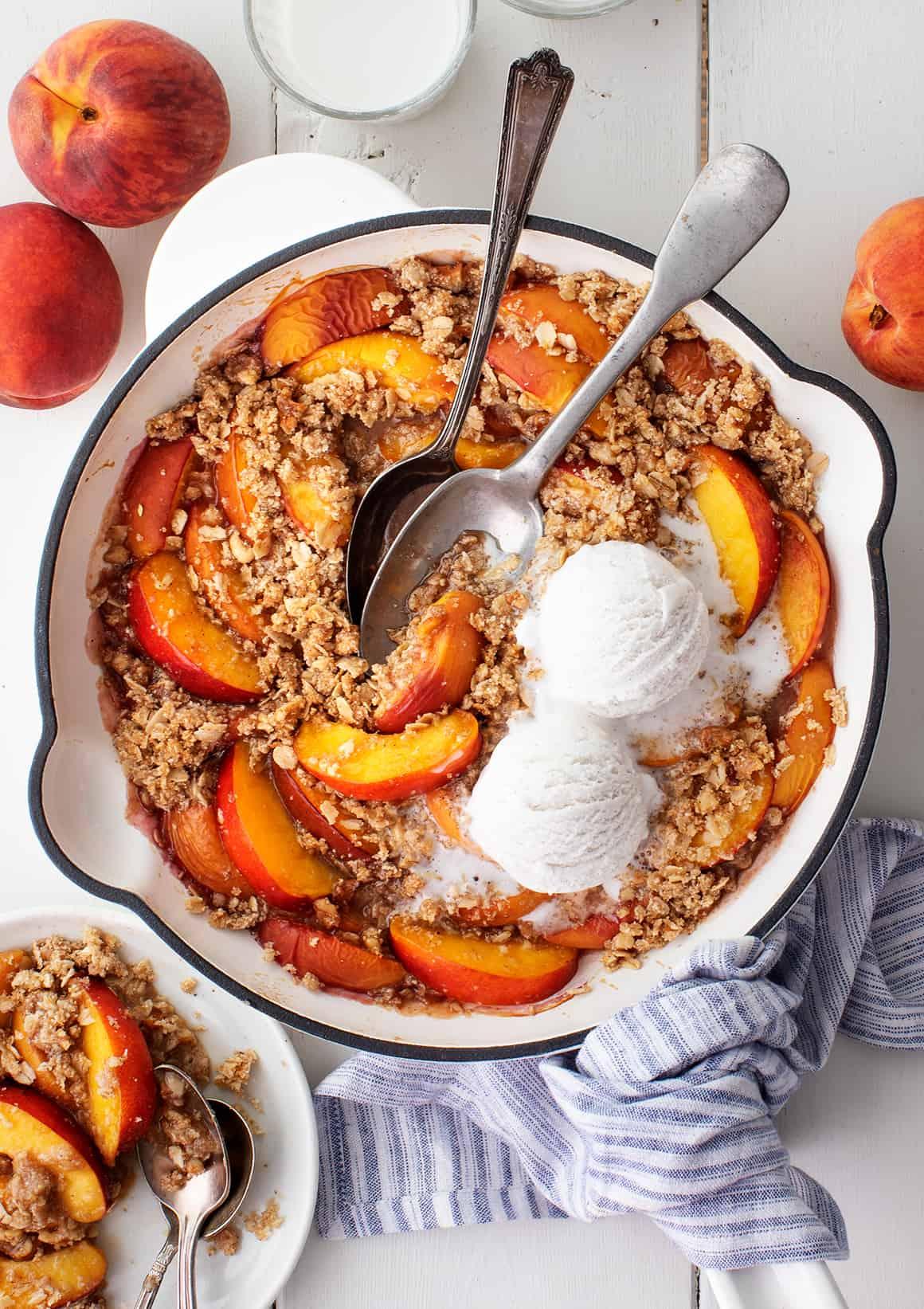 Pair with Vanilla Bean Ice Cream: Serve a generous scoop of creamy vanilla bean ice cream alongside a warm serving of peach crisp. The contrast of temperatures and textures will create a heavenly dessert experience.
Drizzle with Caramel Sauce: For an indulgent twist, drizzle some caramel sauce over the peach crisp just before serving. The sweet caramel flavor complements the fruity peaches and adds a luxurious touch to the dish.
Top with Whipped Coconut Cream: If you prefer a dairy-free option, whip up some coconut cream and dollop it on top of the Easy Low-Fat Peach Crisp. The light and fluffy coconut cream balances the sweetness and adds a tropical hint to the dessert.
Serve with a Sprinkle of Chopped Nuts: Add a delightful crunch to your peach crisp by sprinkling a handful of chopped nuts, such as almonds or pecans, on top. The nuts not only provide texture but also bring a nutty flavor that pairs well with the peaches.
Enjoy for Breakfast with Greek Yogurt: Who says peach crisp is only for dessert? Indulge in a guilt-free breakfast by serving a portion of warm peach crisp with a dollop of creamy Greek yogurt. It's a satisfying and wholesome way to start your day.
FAQs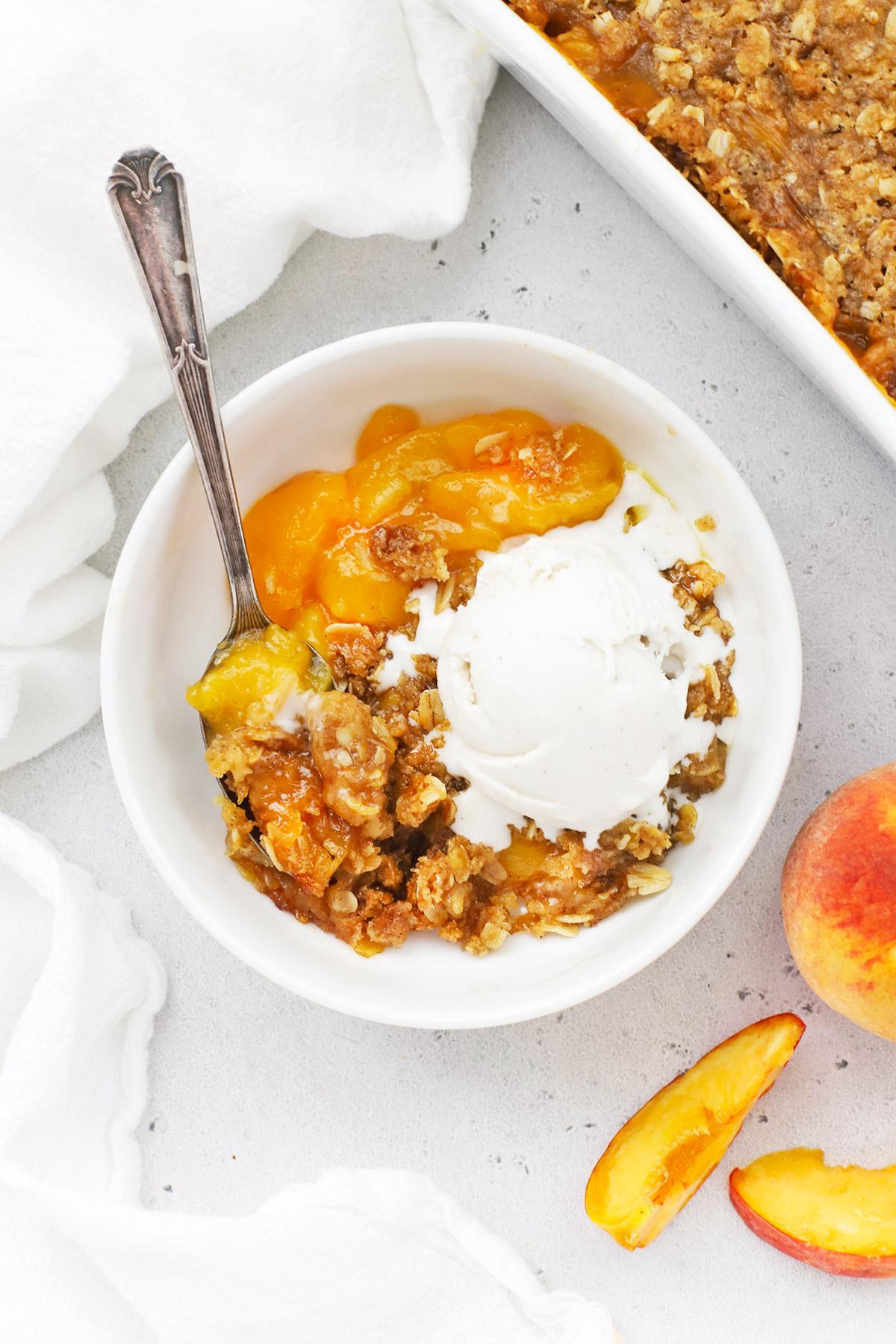 Can I store leftovers of the Easy Low-Fat Peach Crisp?
Yes, you can store any remaining peach crisp in an airtight container in the refrigerator for up to three days. To reheat, simply place it in a preheated oven at 350°F (175°C) for about 10 minutes or until warmed through.
Can I use canned peaches instead of fresh ones?
While fresh peaches are recommended for the best flavor and texture, you can use canned peaches if fresh ones are not available. Just make sure to drain them well before using and adjust the sugar accordingly, as canned peaches are typically sweeter.
Can I make this recipe gluten-free?
Absolutely! To make this peach crisp gluten-free, substitute the all-purpose flour in the topping with a gluten-free flour blend or almond flour. Ensure that all other ingredients used are also gluten-free.
Can I prepare the Easy Low-Fat Peach Crisp ahead of time?
Yes, you can assemble the Easy Low-Fat Peach Crisp ahead of time and refrigerate it before baking. When you're ready to enjoy it, simply bake it according to the recipe instructions. This is a convenient option for entertaining or when you want to save time on the day of serving.
Can I freeze the Easy Low-Fat Peach Crisp?
While it's possible to freeze the peach crisp, it's worth noting that the crisp topping may lose some of its crunchiness upon thawing. If you decide to freeze it, let the crisp cool completely, then wrap it tightly in plastic wrap and aluminum foil before placing it in the freezer. Thaw it in the refrigerator overnight before reheating in the oven.
Discover the secrets to creating a perfect Easy Low-Fat Peach Crisp with our comprehensive guide. From expert cooking tips to enticing serving suggestions, this blog post has you covered. Be sure to share the recipe with others and subscribe to our blog to stay updated on our latest culinary creations.