Nothing will get me out of bed faster on a Saturday morning than the thought of making Light Blueberry-Ricotta Pancakes with Blueberry Sauce! "Scrumptious" would be an understatement when referring to these heavenly delicious, rich blueberry delights. The chunky blueberry sauce is just a bonus – even the pancakes by themselves are stellar. If you are a die-hard fan of drizzling your pancakes with honey or syrup – be my guest (just watch those calories!!!)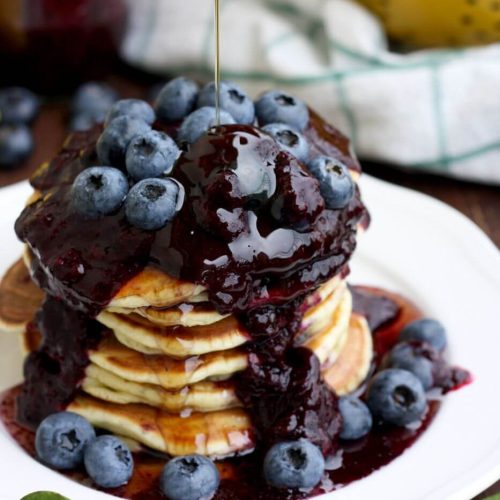 Light Blueberry-Ricotta Pancakes with Blueberry Sauce
Nothing will get me out of bed faster on a Saturday morning than the thought of making Light Blueberry-Ricotta Pancakes with Blueberry Sauce! "Scrumptious" would be an understatement when referring to these heavenly delicious, rich blueberry delights. The chunky blueberry sauce is just a bonus - even the pancakes by themselves are stellar. If you are a die-hard fan of drizzling your pancakes with honey or syrup - be my guest (just watch those calories!!!)
Equipment
1 small bowl

1 large bowl

1 separate bowl

1 large non-stick griddle or skillet

1 medium saucepan
Ingredients
1¼

cup

whole-wheat pastry flour

½

cup

all-purpose flour

2

teaspoons

sugar

2

teaspoons

baking powder

½

teaspoon

baking soda

½

teaspoon

nutmeg

1½

cups

part-skim ricotta cheese

2

whole eggs plus 2 additional egg whites

1

cup

skim milk

1

tablespoon

vinegar

(or lemon juice)

zest and juice from one whole large lemon

1½

cups

fresh or frozen blueberries 

(if using frozen, do not thaw)
To Make the Sauce:
2

cups

 fresh or frozen blueberries

(again, not thawed)

¼

cup

honey

1

teaspoon

lemon zest

(about half of a large lemon)

2

tablespoons

lemon juice
Instructions
Place the milk in a small bowl and stir in the vinegar. Set aside to "curdle". (This is your replacement for "buttermilk")

Whisk flours, sugar, nutmeg, baking powder and baking soda in a large bowl. In a separate bowl whisk ricotta, eggs, egg whites, milk mixture, lemon zest and lemon juice until smooth. Stir the dry ingredients into the wet until just combined.

Spray a large non-stick griddle or skillet generously with cooking spray and place over medium heat. Once skillet is hot, pour a generous 1/4 cup of batter for each pancake, and sprinkle the top evenly with some of the blueberries.

Cook for 2-3 minutes, or until the edges are bubbly. Flip the pancakes and continue to cook for another 2-3 minutes until golden brown.

You may need to re-spray the skillet multiple times in-between batches. You'll also want to keep an eye on the heat because the longer you have the skillet on the stove, the warmer the surface will become.
To Make the Sauce:
Stir all ingredients together in a medium saucepan. Bring to a boil, then reduce heat to a simmer . Simmer, stirring occasionally, until thickened (about 15 minutes). Let cool for 5 to 10 minutes and serve warm.
Notes
Blueberry Variations: Feel free to experiment with different blueberry varieties, such as wild blueberries or frozen blueberries, depending on what's available. Each type will lend a unique flavor profile to your pancakes.
Cooking Tips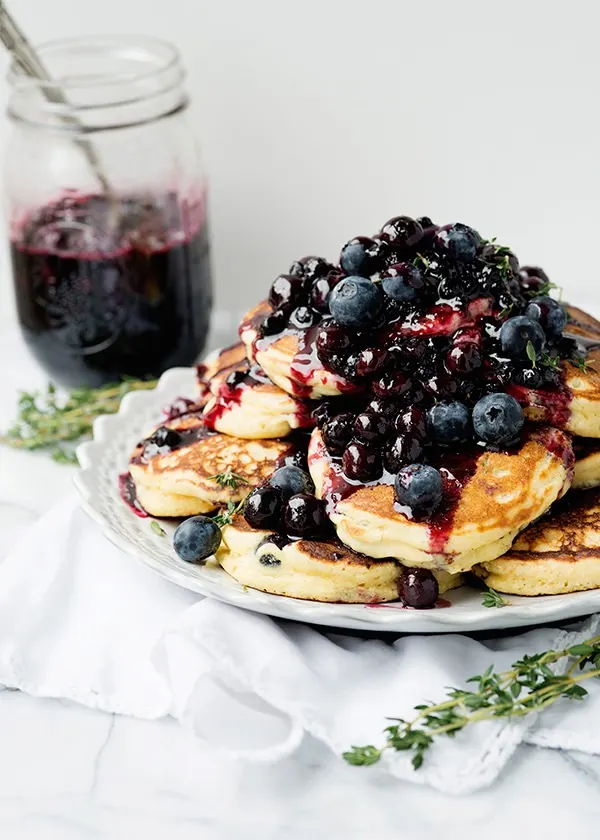 To ensure the best results with your Light Blueberry-Ricotta Pancakes, here are some handy tips and tricks to keep in mind. Additionally, we'll share insights on common mistakes to avoid during the cooking process.
The Perfect Pancake Batter: To achieve fluffy pancakes, avoid overmixing the batter. Gently fold the wet and dry ingredients together until just combined. This will prevent gluten formation and result in a lighter texture.
Preheating the Pan: Preheat your non-stick skillet or griddle over medium heat before pouring the pancake batter. A properly heated surface will help cook the pancakes evenly and prevent sticking.
Blueberry Distribution: When adding blueberries to the batter, evenly distribute them to ensure every bite bursts with fruity goodness. Toss the blueberries in a sprinkle of flour before incorporating them into the batter to prevent sinking to the bottom.
Cooking Time and Flipping: Cook each pancake until you see bubbles forming on the surface and the edges start to set. This is the perfect time to gently flip them using a spatula. Avoid pressing down on the pancakes while cooking, as this can make them dense.
Keep Warm in the Oven: If you're cooking multiple batches, keep the cooked pancakes warm by placing them on a baking sheet in a preheated oven at 200°F (93°C) until ready to serve. This will ensure they stay fluffy and warm.
Serving Suggestions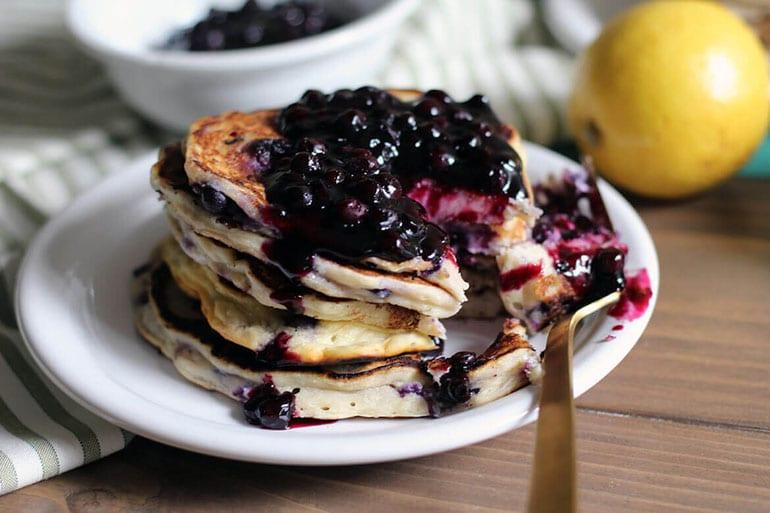 To complete the experience of indulging in Light Blueberry-Ricotta Pancakes with Blueberry Sauce, here are some serving suggestions to enhance the flavors and presentation of the dish.
Complementary Sides: Pair your pancakes with crispy bacon or sausage links for a savory twist. Alternatively, serve them with a side of scrambled eggs for a complete brunch feast.
Garnish with Freshness: Sprinkle some fresh blueberries and a dusting of powdered sugar over the pancakes for an extra burst of flavor and a touch of elegance. You can also add a dollop of whipped cream or a drizzle of maple syrup for added sweetness.
Creative Presentations: Stack the pancakes in a tower and place a pat of butter on top, allowing it to slowly melt into the pancakes. Alternatively, create a pancake "sandwich" by spreading a layer of blueberry sauce between two pancakes and garnishing with fresh mint leaves.
Beverage Pairings: Enjoy your pancakes with a refreshing glass of orange juice or a hot cup of freshly brewed coffee. The citrusy notes of the orange juice complement the blueberry flavors, while coffee provides a robust and comforting pairing.
Brunch Bar Delight: If serving a crowd, set up a brunch bar with a variety of toppings such as sliced almonds, coconut flakes, chocolate chips, and different fruit preserves. Let your guests customize their pancakes to their liking for a delightful interactive experience.
FAQs about Light Blueberry-Ricotta Pancakes with Blueberry Sauce
Can I make Light Blueberry-Ricotta Pancakes with Blueberry Sauce batter ahead of time?
Absolutely! You can prepare the pancake batter the night before and store it in the refrigerator. Just give it a gentle stir before using it the next morning to ensure the ingredients are well incorporated.
Can I freeze the cooked Light Blueberry-Ricotta Pancakes with Blueberry Sauce?
Yes, you can freeze the cooked Light Blueberry-Ricotta Pancakes with Blueberry Sauce for later enjoyment. Allow them to cool completely, then place them in an airtight container or freezer bag with parchment paper between each pancake to prevent sticking. Thaw in the refrigerator overnight and reheat in a toaster or microwave.
Can I substitute ricotta cheese with another ingredient?
If you prefer to avoid ricotta cheese, you can substitute it with cottage cheese or Greek yogurt for a similar creamy texture and tangy flavor.
How long does the blueberry sauce keep in the refrigerator?
The blueberry sauce can be stored in an airtight container in the refrigerator for up to one week. Before using, give it a stir to recombine any separated juices.
What can I do with leftover Light Blueberry-Ricotta Pancakes with Blueberry Sauce?
If you have leftover Light Blueberry-Ricotta Pancakes with Blueberry Sauce, you can store them in the refrigerator for up to three days. Reheat them in the toaster, oven, or microwave before serving. They can also be enjoyed cold as a grab-and-go snack or used as a base for a pancake-inspired dessert, such as a trifle or pancake ice cream sandwich.
Experience the fluffy and flavorful symphony of Light Blueberry-Ricotta Pancakes with Blueberry Sauce. Uncover cooking tips, creative serving suggestions, and find answers to commonly asked questions. Join us on this culinary journey, and be sure to share the recipe with others and subscribe to our blog for more deliciousness.