Good morning, food enthusiasts! Today, I have an amazing recipe to brighten up your mornings and give you a boost of energy. These Sunny Energy Seed Breakfast Cookies are a delightful and nutritious treat that will make you jump out of bed and start your day on a tasty note.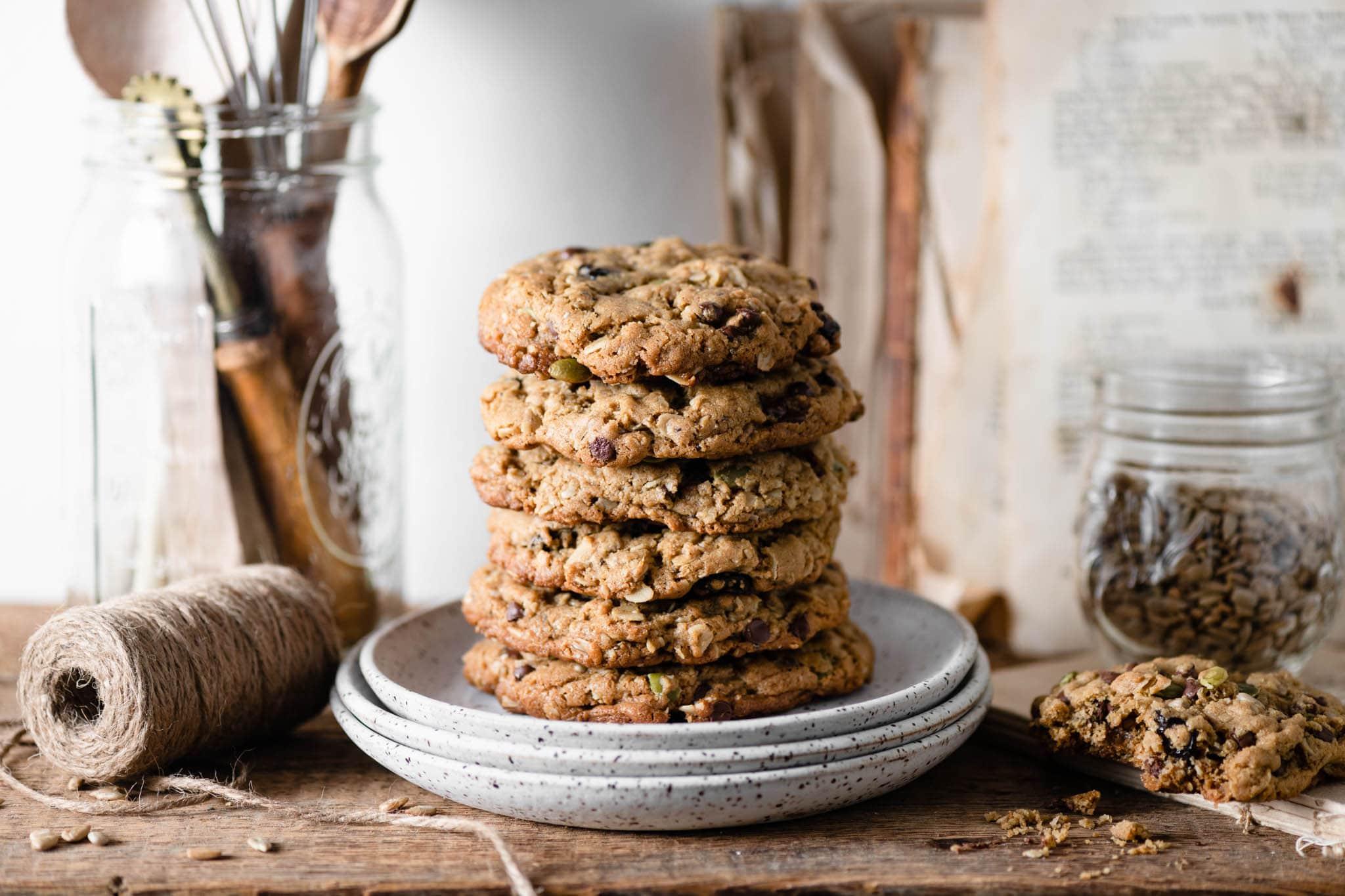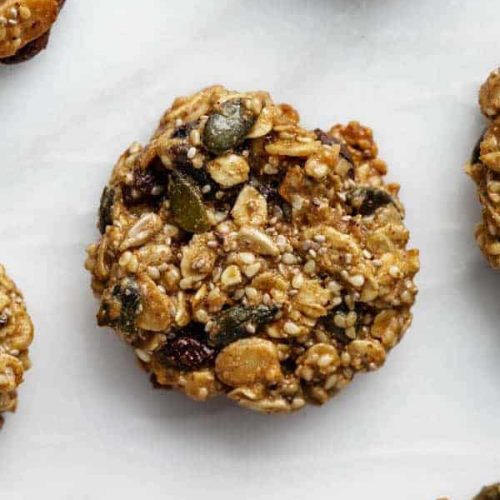 Sunny Energy Seed Breakfast Cookies
Good morning, food enthusiasts! Today, I have an amazing recipe to brighten up your mornings and give you a boost of energy. These Sunny Energy Seed Breakfast Cookies are a delightful and nutritious treat that will make you jump out of bed and start your day on a tasty note.
Equipment
oven

1 baking sheet

1 small bowl
Ingredients
¾

cup

quick cooking rolled oats 

(quick cooking, not instant)

¼

cup

pure maple syrup

(be sure to use "pure" maple, not pancake syrup)

¼

tahini (sesame paste), or any nut butter

(peanut, almond, or cashew butter)

¼

cup

raw (unroasted, unsalted) sunflower seeds

¼

cup

chopped dried cranberries or raisins
Instructions
Preheat the oven to 350 degrees and coat a baking sheet with nonstick cooking spray; set aside.

Place the maple syrup and tahini in a small bowl and mix together very well, then stir in the oats, seeds and dried fruit; mix well until everything is combined.

Drop the dough on to the sheet using 12 rounded spoonfuls, and then flatten each cookie slightly with the back of a spoon. bake for 15 to 18 minutes, or until lightly browned.

Let the cookies cool on the baking sheet for at least 5 minutes before carefully loosening them and transfering to a cooling rack. May be eaten warm or at room temperature (but cool completely before storing in an airtight container).
Notes
Nutritional Information: These Sunny Energy Seed Breakfast Cookies are a nutritious option to start your day. They are rich in fiber, healthy fats, and protein, which will keep you satisfied and energized throughout the morning. Remember to enjoy them as part of a balanced breakfast.
Cooking Tips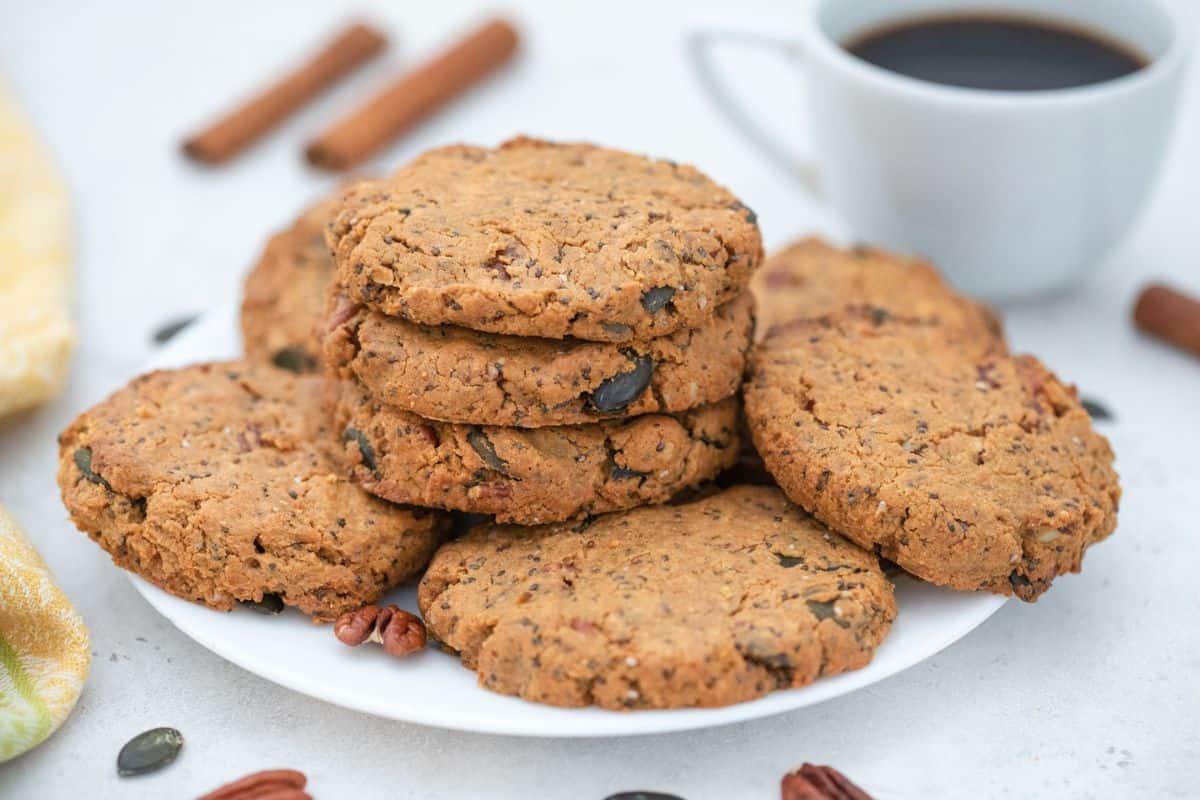 When it comes to preparing Sunny Energy Seed Breakfast Cookies, a few cooking tips and tricks can go a long way in ensuring the best results. By following these suggestions, you'll be able to create delicious and nutritious cookies that are perfect for starting your day on a healthy note.
Offer tips and tricks to ensure the best results:
Use high-quality ingredients: Opt for fresh and organic ingredients whenever possible. This will enhance the flavor and nutritional value of your breakfast cookies.
Properly measure ingredients: Accurate measurements are crucial for achieving the right texture and consistency. Use measuring cups and spoons to measure the ingredients precisely.
Don't overmix the dough: Overmixing can lead to dense and tough cookies. Once the ingredients are combined, mix just until everything is evenly distributed.
Adjust baking time: Every oven is different, so keep an eye on your cookies as they bake. Start with the recommended baking time and adjust accordingly to achieve your desired level of crispness or softness.
Allow cookies to cool: After removing the cookies from the oven, let them cool on a wire rack. This will help them firm up and prevent them from crumbling when handled.
Share insights on common mistakes to avoid:
Adding too much liquid: Be cautious when adding liquid ingredients to the dough. Too much liquid can make the cookies spread too much and lose their shape.
Overbaking the cookies: It's better to slightly underbake the cookies than to overbake them. Overbaking can result in dry and crumbly cookies.
Using old or rancid ingredients: Check the expiration dates of your ingredients, especially the nuts and seeds. Using stale or rancid ingredients can negatively impact the taste of the cookies.
Not chilling the dough: Chilling the dough before baking helps the cookies hold their shape and prevents excessive spreading. Follow the recipe's instructions for chilling time.
The Best Ways To Enjoy Sunny Energy Seed Breakfast Cookies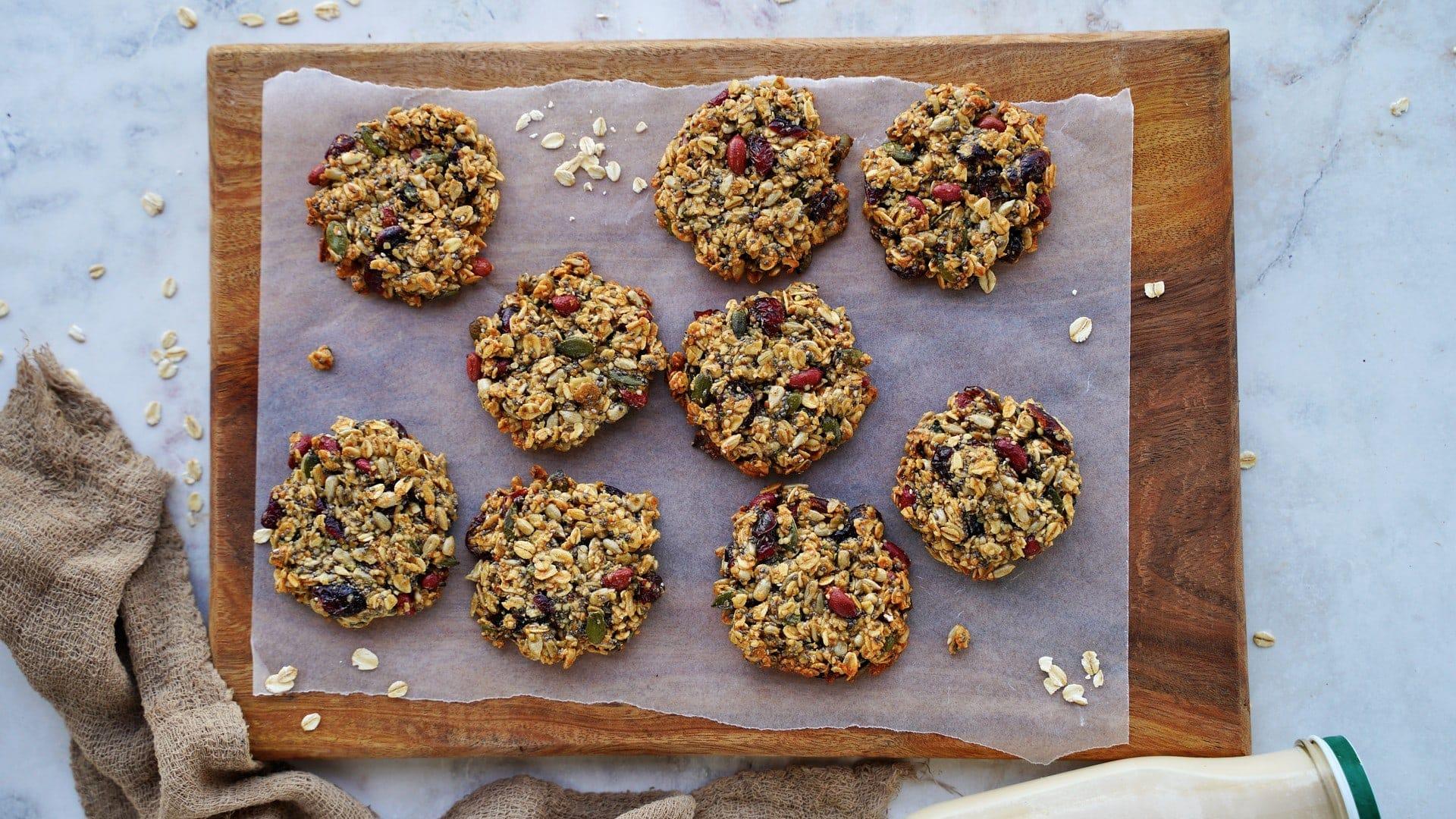 Sunny Energy Seed Breakfast Cookies are incredibly versatile and can be enjoyed in various ways. Here are some serving suggestions to make the most of these delicious cookies.
Recommend sides, garnishes, or beverages that complement the flavors:
Greek yogurt and fresh berries: Serve the breakfast cookies alongside a dollop of creamy Greek yogurt and a handful of fresh berries. The tanginess of the yogurt and the sweetness of the berries complement the nutty flavors of the cookies.
Nut butter spread: Spread a generous amount of almond or peanut butter on top of the cookies for an extra boost of protein and flavor. This combination makes for a satisfying and filling breakfast or snack.
Warm milk or coffee: Enjoy your Sunny Energy Seed Breakfast Cookies by dunking them into a cup of warm milk or coffee. The cookies absorb the liquid, creating a delightful texture and taste.
Suggest different ways to serve the dish:
Breakfast on the go: Pack a couple of these cookies in a ziplock bag, and you'll have a convenient and nutritious breakfast option for busy mornings.
Crumble over yogurt or oatmeal: Crumble the cookies and sprinkle them over a bowl of yogurt or oatmeal to add a delightful crunch and extra nutrients.
Ice cream sandwich: Place a scoop of your favorite ice cream between two cookies, press gently, and enjoy a homemade ice cream sandwich with a healthy twist.
FAQs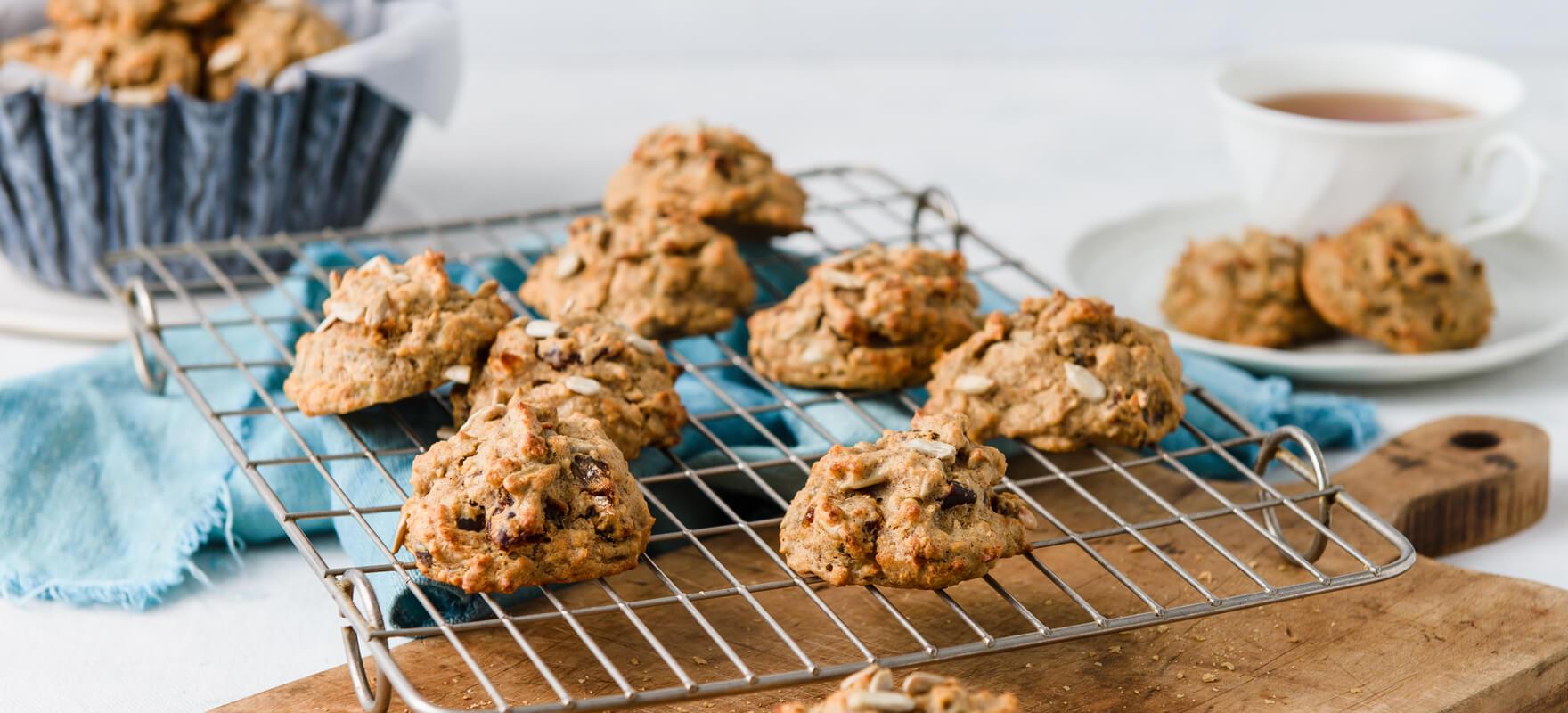 Here are some frequently asked questions about Sunny Energy Seed Breakfast Cookies, along with the answers, to help you make the most of this delightful treat.
Can I store leftovers? How should I store them?
Yes, you can store the leftover cookies in an airtight container at room temperature for up to 5 days. For longer storage, you can freeze the cookies in a freezer-safe container or bag for up to 3 months. Thaw them at room temperature before enjoying.
Can I substitute ingredients in the recipe?
Absolutely! Sunny Energy Seed Breakfast Cookies are quite forgiving when it comes to ingredient substitutions. You can experiment with different types of nuts, seeds, dried fruits, or sweeteners, depending on your preferences and dietary restrictions.
Are these cookies suitable for people with food allergies?
The recipe for Sunny Energy Seed Breakfast Cookies is naturally gluten-free and dairy-free. However, it's essential to check the labels of the ingredients you use to ensure they are free from any allergens or cross-contamination.
Can I make the dough ahead of time?
Yes, you can prepare the dough in advance and refrigerate it for up to 24 hours before baking. This allows the flavors to meld together, resulting in a more delicious cookie.
Can I adjust the sweetness level of the cookies?
Absolutely! If you prefer your cookies to be sweeter, you can increase the amount of sweetener used in the recipe. Alternatively, if you're looking to reduce the sweetness, you can decrease the amount of sweetener or use natural alternatives like mashed bananas or applesauce.
Looking for a wholesome and delicious breakfast option? Look no further than Sunny Energy Seed Breakfast Cookies. This post offers valuable cooking tips to ensure the best results, along with creative serving suggestions that will tantalize your taste buds. Stay tuned for the compelling CTA, inviting you to share the recipe with others and join the blog's community of food enthusiasts.