Steak Tacos with Avocado-Lime Salsa recipe is slightly higher in calories and fat than what you would expect in a "light" recipe – but it is mostly due to the use of the avocado (which means the little extra calories and fats are the "good" kind.) Even when you are attempting to "slim down", you need to remember to eat a healthy, balanced diet – and that includes healthy fats. Our bodies need fat to carry out a variety of important functions. Trimming all fat from your diet is extremely detrimental to your health (especially in the case of the fats found in avocado, fish, olives, olive oil, and nuts.)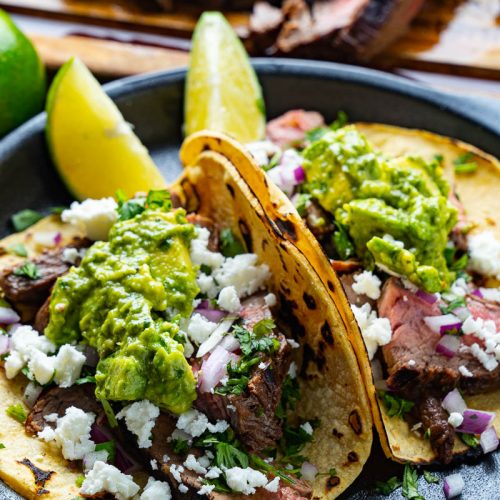 Steak Tacos with Avocado-Lime Salsa
Steak Tacos with Avocado-Lime Salsa recipe is slightly higher in calories and fat than what you would expect in a "light" recipe – but it is mostly due to the use of the avocado (which means the little extra calories and fats are the "good" kind.) Even when you are attempting to "slim down", you need to remember to eat a healthy, balanced diet – and that includes healthy fats. Our bodies need fat to carry out a variety of important functions. Trimming all fat from your diet is extremely detrimental to your health (especially in the case of the fats found in avocado, fish, olives, olive oil, and nuts.)
Equipment
1 medium sized bowl

1 small bowl

1 fork

2 slightly dampened paper towels
Ingredients
1½

pounds

top sirloin steaks

1

tablespoon

chili powder

2

cloves

garlic, minced or pressed

⅛

teaspoon

cayenne pepper

¼

teaspoon

salt

12

 small whole wheat or corn tortillas

(about 6 inches diameter)

1-1½

cups

shredded lettuce

½

cup

chopped cilantro leaves

1

lime, cut into wedges

(for serving)

Avocado Lime Salsa 

(see recipe below)

fat free sour cream

(optional)
To Make the Salsa:
1

small cucumber peeled, seeded and grated or finely minced

2

large avocados, cut into chunks

4

plum tomatoes, diced

1

 small red onion, finely diced

juice from 2 whole large limes

⅛

teaspoon

salt

2

jalapeno chiles, chopped
Instructions
Place the avocado in a medium sized bowl and mash well with a fork. Add the tomato, cucumber, onion, lime juice and salt and mix well; add the jalapeno chiles and stir gently.
To Make the Tacos:
In a small bowl stir together chili powder, garlic, salt and cayenne pepper. Rub this mixture on both sides of the steaks, then grill or broil steaks for 5 to 6 minutes on each side (for medium rare, longer if you like it more well done).

Remove the steaks from the grill and let them sit for 10 to 15 minutes before carving them into thin slices (about 1 inch thick strips).

Warm the tortillas by placing them between 2 slightly dampened paper towels and microwaving them for 45 seconds.

Evenly distribute the steak strips between the tortillas. Top each with the shredded lettuce and the cilantro leaves, and then a generous topping of the avocado salsa. Serve with the lime wedges on the side.
Notes
Choosing the Right Cut of Steak: Opt for a tender and well-marbled cut of steak, such as skirt steak or flank steak, for the best results. These cuts are perfect for grilling or searing and offer a deliciously juicy bite.
Cooking Tips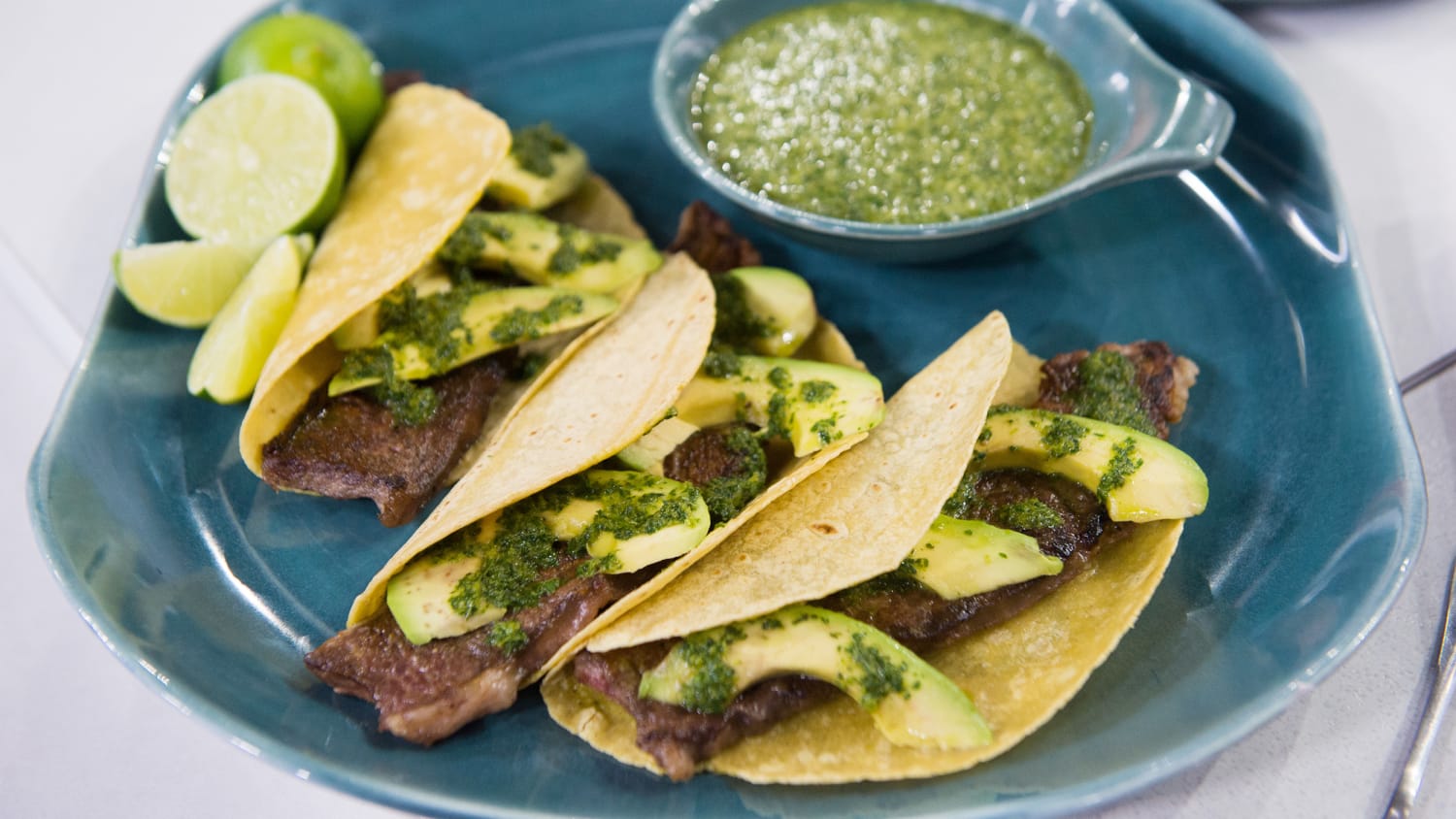 To make your Steak Tacos with Avocado-Lime Salsa truly exceptional, I've gathered some valuable cooking tips and insights to help you achieve the best results. From expert tricks to avoiding common mistakes, here's what you need to know:
Marinating Magic: For an extra punch of flavor, marinate your steak before grilling or searing. Combine a mix of lime juice, garlic, spices, and a touch of olive oil. Let the steak soak up those delicious flavors for at least 30 minutes, or overnight for even more depth.
Perfectly Cooked Steak: To achieve a juicy and tender steak, follow the recommended cooking times based on your preferred level of doneness. Use a meat thermometer to ensure precise cooking: 125°F (52°C) for rare, 135°F (57°C) for medium-rare, 145°F (63°C) for medium, and 160°F (71°C) for well-done.
Rest and Slice: After cooking the steak, resist the urge to dig in immediately. Allow the steak to rest for about 5 minutes before slicing it against the grain. This ensures the juices redistribute evenly throughout the meat, resulting in a more flavorful and tender bite.
Grilling Perfection: If grilling your steak, preheat the grill to medium-high heat and brush the grates with oil to prevent sticking. For an appetizing sear, cook the steak for approximately 4-6 minutes per side, or until it reaches your desired level of doneness.
Avoiding Dryness: To prevent your steak from drying out, be mindful of overcooking. Keep a close eye on the cooking time and use a meat thermometer to achieve the perfect internal temperature. Remember, a slightly pink center is what you're aiming for!
Serving Suggestions
Now that your Steak Tacos with Avocado-Lime Salsa are ready to be devoured, it's time to explore some delightful serving suggestions. Enhance your culinary experience with these recommendations and enjoy the harmonious flavors:
Complementary Sides and Garnishes: Serve your tacos with a side of Mexican rice, refried beans, or charred corn salad for a complete meal. Top your tacos with crumbled queso fresco, chopped cilantro, and a squeeze of fresh lime juice for an extra burst of flavor.
Taco Bar Extravaganza: Create a taco bar spread with a variety of toppings and condiments. Offer options like diced tomatoes, sliced radishes, pickled onions, shredded lettuce, and different hot sauces. Let everyone customize their tacos according to their taste preferences.
Taco Salad Twist: Transform your steak tacos into a vibrant taco salad. Arrange a bed of crisp lettuce, add your taco fillings, and drizzle with the avocado-lime salsa as a dressing. It's a refreshing and lighter alternative that still delivers on flavor.
Tortilla Variations: While traditional corn tortillas are the classic choice, consider experimenting with different tortilla varieties. Flour tortillas or lettuce wraps can provide a unique twist to your steak tacos, adding a different texture and taste.
Refreshing Beverages: Pair your Steak Tacos with Avocado-Lime Salsa with refreshing beverages like a zesty margarita, a chilled Mexican beer, or a fruity agua fresca. These drinks perfectly complement the flavors of the dish and add a touch of fiesta to your meal.
FAQs about Steak Tacos with Avocado-Lime Salsa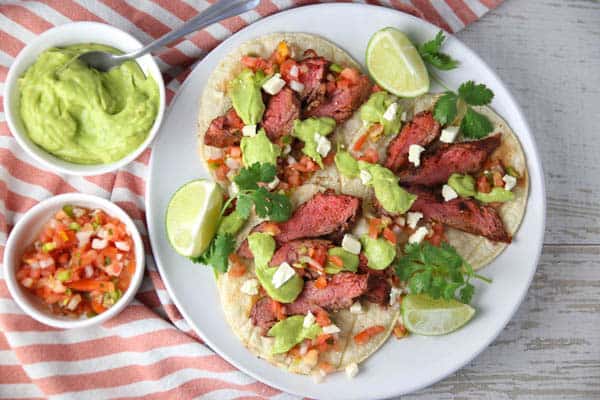 Can I use a different cut of steak for my tacos?
Absolutely! While skirt steak or flank steak are commonly used, you can experiment with other cuts like ribeye or sirloin. Just ensure that the steak is well-marbled and suitable for grilling or searing.
How can I store any leftover Steak Tacos with Avocado-Lime Salsa?
If you have leftovers, store the cooked steak and taco components separately. Place the steak in an airtight container in the refrigerator for up to 3 days. Reheat the steak gently in a skillet or microwave before assembling fresh tacos.
Can I make the avocado-lime salsa ahead of time?
Yes! You can prepare the avocado-lime salsa in advance. To prevent browning, cover the salsa tightly with plastic wrap, ensuring it touches the surface of the salsa to minimize air exposure. Refrigerate it for up to 24 hours before serving.
Can I make these tacos vegetarian-friendly?
Absolutely! For a vegetarian version, substitute the steak with grilled portobello mushrooms or marinated tofu. The avocado-lime salsa and taco fillings will still provide a burst of flavor and create a delicious meat-free alternative.
Can I adjust the spice level of the salsa?
Absolutely! If you prefer a milder salsa, adjust the amount of jalapeño or omit it altogether. You can also remove the seeds and membranes from the jalapeño before chopping it to reduce the heat. Customize the salsa to suit your taste preferences.
Experience a burst of flavors with our Steak Tacos with Avocado-Lime Salsa. From cooking tips to serving suggestions, we've got you covered. Don't miss out on sharing this amazing recipe and subscribing to our blog for more delectable inspirations!