They say that "good things come in small packages" – and I think that they must have been referring to these filling, savory, meaty, cheesy stuffed peppers!! Weighing in at only 211 calories, these stuffed peppers are so comforting, satisfying and delicious that you will feel as though you are indulging in something "naughty". It's hard to believe that something that tastes so decadent can actually be good for you!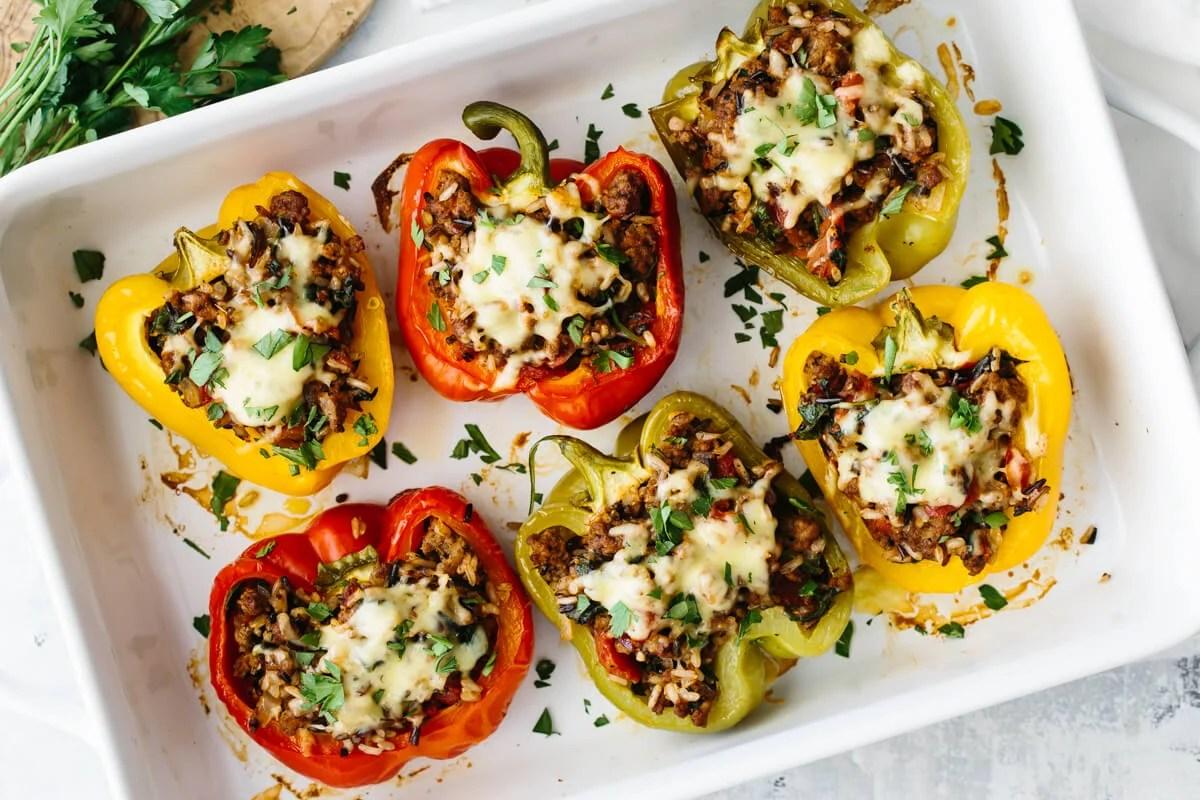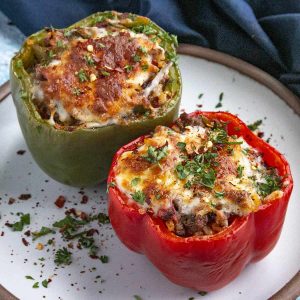 Stuffed Peppers
They say that "good things come in small packages" – and I think that they must have been referring to these filling, savory, meaty, cheesy stuffed peppers!! Weighing in at only 211 calories, these Stuffed Peppers are so comforting, satisfying and delicious that you will feel as though you are indulging in something "naughty". It's hard to believe that something that tastes so decadent can actually be good for you!
Equipment
oven

1 9 x 13 inch baking dish

1 large bowl
Ingredients
1

pound

lean ground beef or ground chicken

4

large green or red bell peppers, cut in half lengthwise

1

package

frozen spinach, thawed and drained very well

2

medium zucchini, finely chopped

(or even grated)

1

large red onion, minced

½

cup

brown rice, quinoa, or bulgur

1

egg, lightly beaten

½

teaspoon

dried oregano

½

teaspoon

salt

Black pepper, to taste

2

cans

low-sodium stewed tomatoes, chopped

½

cup

low fat shredded cheese

(mozzarella, cheddar, feta – whichever you prefer)
Instructions
Preheat the oven to 350 degrees and lightly mist a 9 x 13 inch baking dish with cooking spray.

In a large bowl combine the ground meat, spinach, zucchini, onion, rice, egg, oregano, salt and pepper and mix until everything is well combined. Arrange the cut pepper halves in the dish and fill each pepper half with the filling mixture, then pour the tomatoes over the top and sprinkle with the cheese.

Cover the dish with foil and bake for 30 minutes, then uncover the dish and bake until completely cooked (the peppers should be tender – this usually takes about 25 minutes longer once you uncover the dish.
Notes
Customizable Fillings: Feel free to experiment with different fillings based on your preferences. From ground meat to vegetarian options like quinoa or lentils, the choice is yours to create a masterpiece that suits your palate.
Alternative Method: Instant Pot (Pressure Cooker)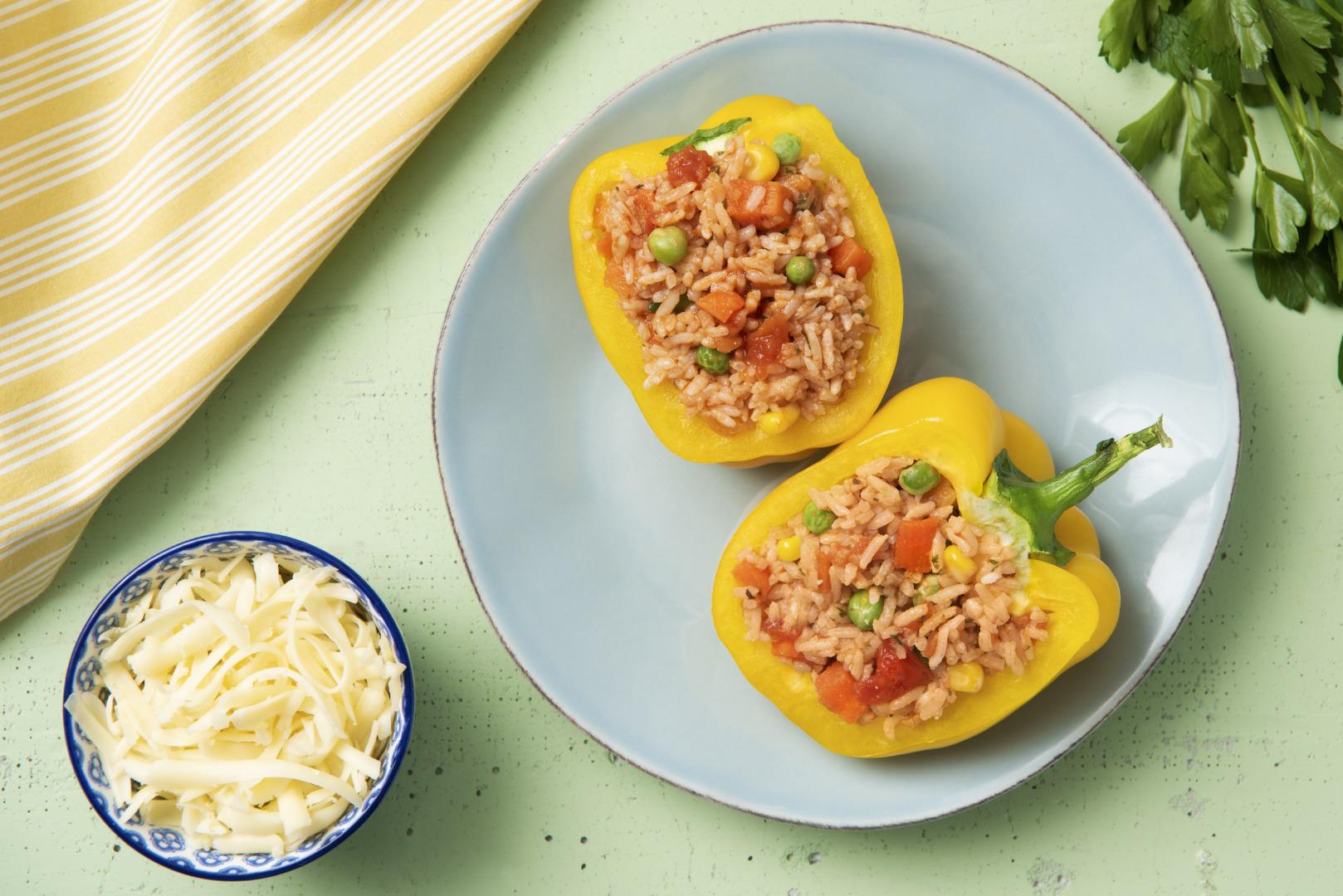 If you're looking for a quicker and more convenient way to make Stuffed Peppers, the Instant Pot (pressure cooker) is your best friend. Here's a specific method to prepare this dish using the Instant Pot:
Prep the Peppers: Cut off the tops of the bell peppers and remove the seeds and membranes from the inside.
Prepare the Filling: Follow your preferred filling recipe, whether it's a meat-based or vegetarian option. Ensure the filling is well seasoned and ready to go.
Stuff the Peppers: Fill each bell pepper with the prepared filling, making sure not to overstuff them.
Set up the Instant Pot: Pour 1 cup of water into the Instant Pot and place the trivet inside. Arrange the stuffed peppers on the trivet, ensuring they are standing upright.
Pressure Cook: Close the Instant Pot lid, set the steam release valve to the sealing position, and select the "Pressure Cook" (or "Manual") function. Set the cooking time to 5 minutes on high pressure.
Natural Release: Once the cooking time is complete, allow the pressure to release naturally for about 5 minutes. Then, carefully perform a quick release by turning the steam release valve to the venting position.
Serve and Enjoy: Carefully remove the Stuffed Peppers from the Instant Pot using tongs. Serve them hot and savor the delicious flavors.
With the Instant Pot, you can enjoy tender and flavorful Stuffed Peppers in a fraction of the time it takes to bake them in the oven. It's a great option for busy days or when you're craving this delightful dish in a hurry.
Cooking Tips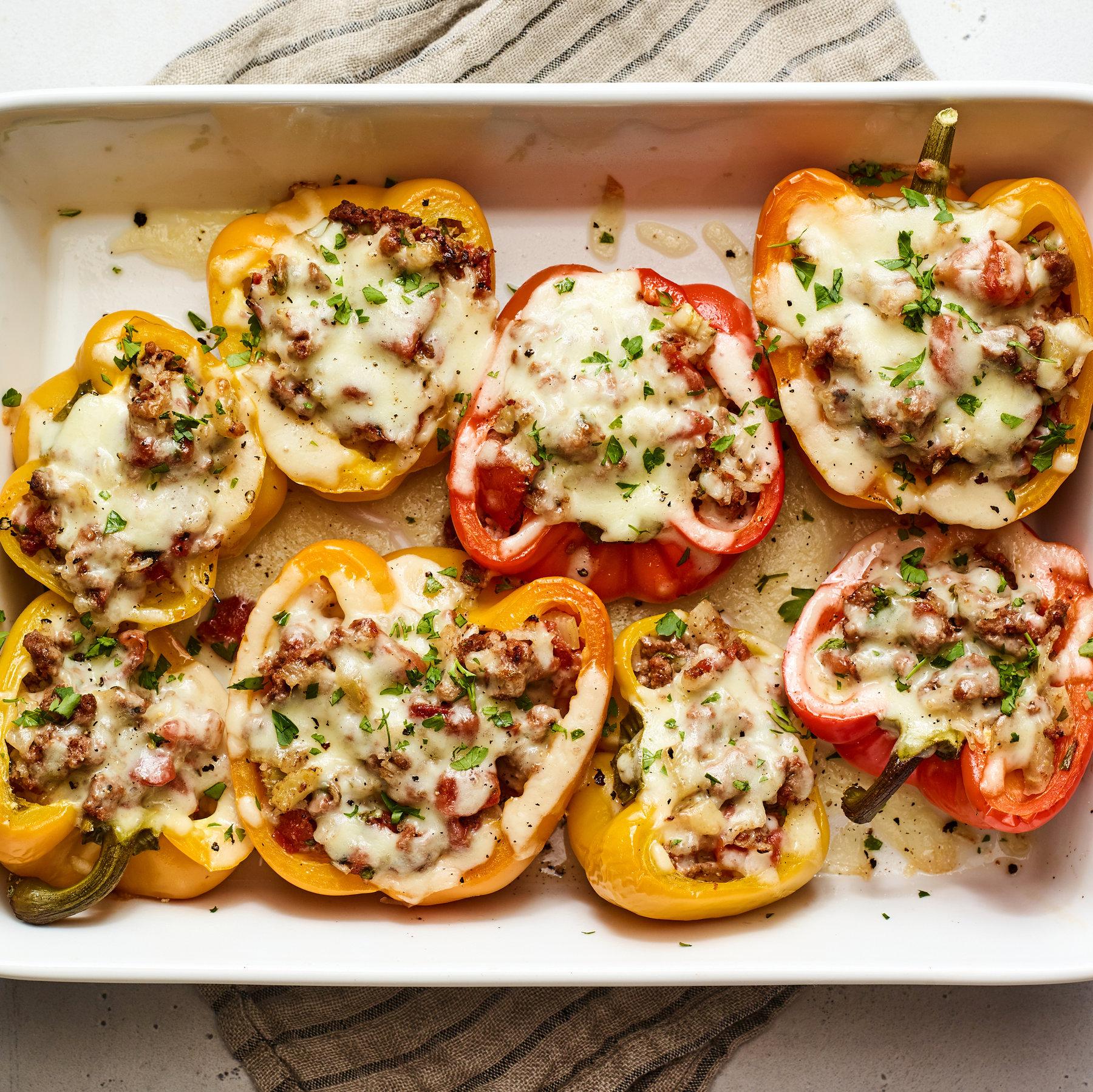 Achieving perfection in every bite of your Stuffed Peppers is easier than you think. In this section, I'll share some valuable cooking tips and insights to ensure the best results. From techniques to common pitfalls, get ready to embark on a culinary journey that will leave you with a dish worth savoring.
Offer Tips and Tricks to Ensure the Best Results:
Choose the Right Bell Peppers: Look for bell peppers that are firm, vibrant in color, and have a flat bottom to ensure they stand upright during cooking.
Precook the Bell Peppers: To ensure even cooking, blanch the bell peppers in boiling water for a couple of minutes before stuffing them. This step helps soften the peppers and reduces the overall cooking time.
Season Wisely: Don't forget to season each component of the filling generously. Taste as you go and adjust the seasoning accordingly to achieve a perfectly balanced flavor profile.
Monitor the Cooking Time: Keep a close eye on the Stuffed Peppers while they are baking to avoid overcooking. The peppers should be tender but still hold their shape.
Share Insights on Common Mistakes to Avoid:
Overstuffing the Peppers: While it may be tempting to pack the peppers to the brim, avoid overstuffing as it can lead to uneven cooking and difficulty in handling the peppers.
Neglecting the Resting Time: Allow the Stuffed Peppers to rest for a few minutes after baking. This step allows the flavors to meld together and makes it easier to handle and serve.
The Best Ways To Serve And Enjoy Stuffed Peppers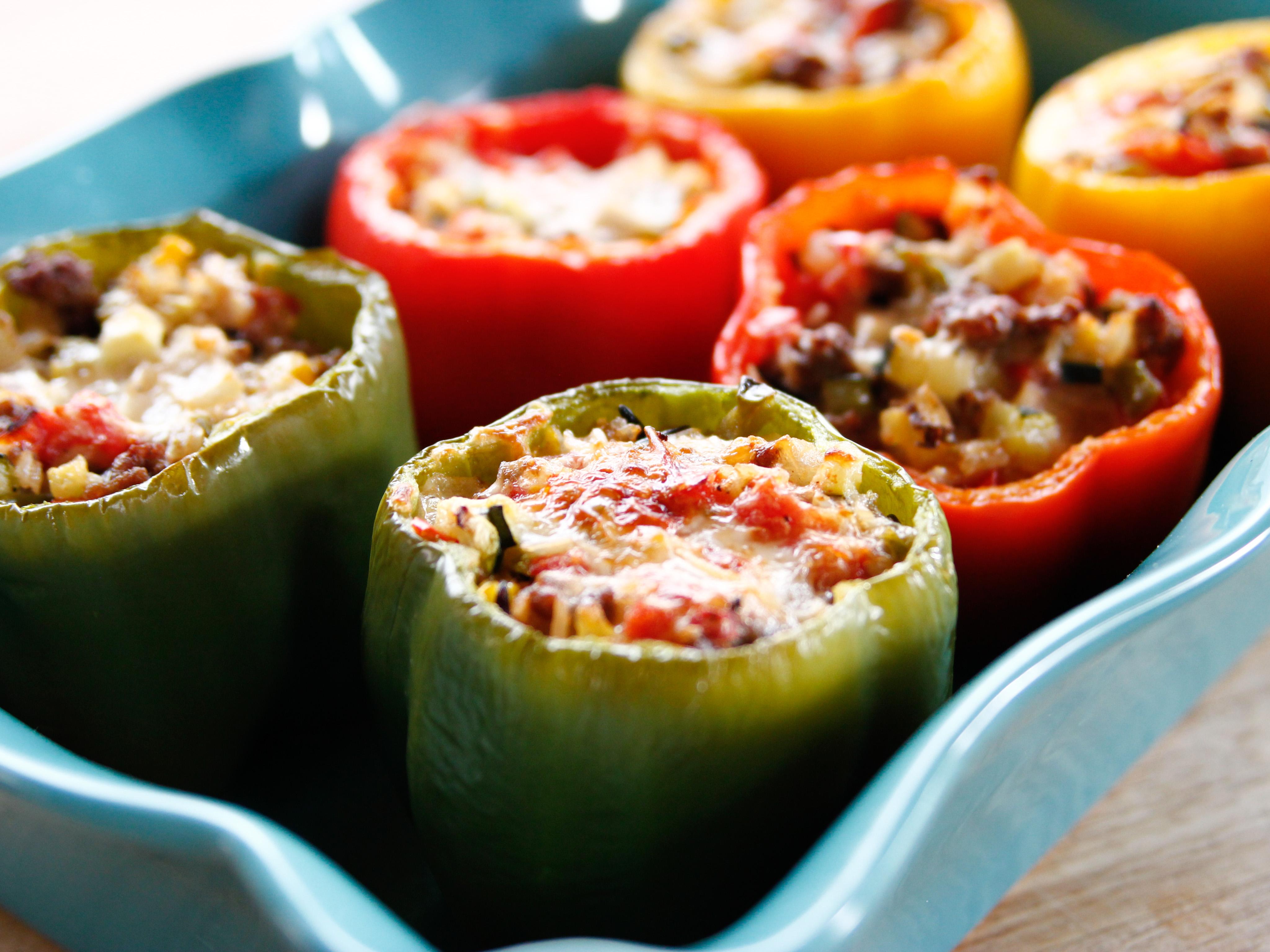 Ready to elevate your Stuffed Peppers to a whole new level? In this section, I'll share some mouthwatering serving suggestions that will make your dish shine. From delectable sides to tantalizing garnishes, get ready to impress your guests and indulge in a symphony of flavors.
Recommend Sides, Garnishes, or Beverages That Complement the Flavors:
To create a well-rounded meal, pair your Stuffed Peppers with these delightful accompaniments:
Fresh Salad: Serve a crisp green salad with vinaigrette dressing to provide a refreshing contrast to the rich flavors of the Stuffed Peppers.
Garlic Roasted Potatoes: The creamy and savory notes of roasted potatoes perfectly complement the bold flavors of the dish.
Tangy Yogurt Sauce: Whip up a tangy yogurt sauce with a squeeze of lemon juice, minced garlic, and a sprinkle of fresh herbs. Drizzle it over the Stuffed Peppers to add a creamy and cooling element.
Seasoned Rice: Serve fluffy, seasoned rice on the side to absorb the delicious juices from the Stuffed Peppers, creating a harmonious balance of flavors.
Suggest Different Ways to Serve the Dish:
Get creative with your presentation and impress your guests with these unique serving ideas:
Tapas Party: Cut the Stuffed Peppers into bite-sized portions and serve them as part of a tapas spread. Your guests will love these flavorful morsels.
Stuffed Pepper Casserole: Layer the Stuffed Peppers in a baking dish, sprinkle with cheese, and bake until bubbly. Serve it as a hearty casserole for a cozy family dinner.
Vegetarian Delight: Skip the bell peppers and stuff the filling into large Portobello mushrooms. Roast them until tender for a delightful vegetarian alternative.
FAQs
Curious minds often have questions, and I'm here to provide the answers! In this section, I'll address some commonly asked questions about Stuffed Peppers. From storage tips to ingredient substitutions, find the information you need to ensure a smooth cooking experience.
Can I Make Stuffed Peppers Ahead of Time?
Absolutely! Stuffed Peppers can be prepared in advance. Simply assemble the peppers, cover tightly, and refrigerate for up to 24 hours. Bake them when you're ready to enjoy. Note that the baking time may need to be slightly extended if the peppers are chilled.
How Do I Store Leftover?
If you have leftovers, store them in an airtight container in the refrigerator for up to 3 days. To reheat, place them in the oven at a low temperature until warmed through.
Can I Make this dish with Different Fillings?
Certainly! Stuffed Peppers are highly versatile, and you can experiment with various fillings. From meat to vegetarian options like grains or legumes, feel free to get creative and customize the recipe to suit your taste.
Can I Freeze Stuffed Peppers?
Yes, you can freeze this dish. Prepare the recipe as instructed, but omit the baking step. Wrap each uncooked pepper tightly in plastic wrap and then aluminum foil. Freeze for up to 3 months. When ready to cook, thaw the peppers in the refrigerator and bake as directed.
Discover the secrets to making perfect Stuffed Peppers with our expert guide. Uncover cooking tips, explore delightful serving suggestions, and find answers to commonly asked questions. Join our culinary community by sharing the recipe and subscribing to our blog for exclusive recipes and culinary inspiration.