Welcome to my kitchen, fellow food enthusiasts! Today, I'm thrilled to share with you a recipe that will tantalize your taste buds and warm your soul. Get ready to dive into a bowl of Whole Wheat Pasta with Sausage and Broccoli Rabe. This dish is a perfect combination of flavors, textures, and wholesome ingredients, making it a delightful choice for any occasion.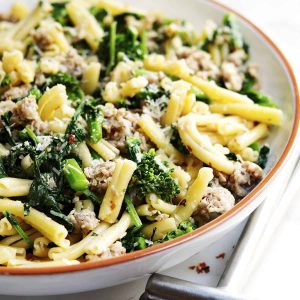 Whole Wheat Pasta with Sausage and Broccoli Rabe
Broccoli Rabe (also called "rabe" or "rapini"), is a leafy green vegetable popular in Southern Italy. It is very rich in vitamins and phytochemicals - and has only 20 calories per cup. A vegetable that is that low in calories while still having such an amazing nutritional profile - you know that I just had to create a recipe for it! I use chicken sausage when making this dish, but you can use pork sausage if that is what you prefer. I kept the sauce simple so as not to overpower the flavors of the two main ingredients. It adds just enough additional flavor to tie everything in Whole Wheat Pasta with Sausage and Broccoli Rabe together perfectly.
Equipment
1 large saucepan or skillet

1 spatula or wooden spoon
Ingredients
1

can

low sodium chicken broth

(14.5 ounce)

1

pound

lean chicken (or pork) sausage

1

pound

whole wheat rigatoni, penne, or ziti

1

large bunch broccoli rabe

(cut into roughly 1 inch pieces)

2

garlic cloves, minced or pressed

1

tablespoon

extra virgin olive oil

2

tablespoons

unsalted butter

1½

cups

light grated parmesan cheese

¼

teaspoon

black pepper

red pepper flakes

(to taste)
Instructions
Cook the pasta according to the package directions. While pasta cooks, heat the olive oil in a large saucepan or skillet over medium heat. Remove the casings from the sausage and throw them away.

Add the sausage to the pan and cook for about 7 minutes (until no longer pink) crumbling it with a spatula or wooden spoon as it cooks. Add the garlic and cook for 1 minute more.

Add the chicken broth and red pepper flakes; bring the mixture to a boil. Add the broccoli rabe, cover the pan, and cook for about 3 minutes (or until rabe is tender).

Remove the lid, stir in the butter and parmesan cheese; cook uncovered for 2 more minutes (until the sauce thickens slightly).

Add the cooked, drained pasta and black pepper, and stir for another minute or two to allow the pasta to absorb some of the sauce.
Notes
Prefer a spicier kick? Add a pinch of red pepper flakes or a drizzle of chili oil to the dish. The subtle heat will elevate the flavors and add an extra dimension to each bite.
Cooking Tips
Whether you're a seasoned chef or a novice in the kitchen, these cooking tips will help you achieve the best results with your Whole Wheat Pasta with Sausage and Broccoli Rabe. From enhancing flavors to avoiding common pitfalls, follow these insights to create a truly exceptional dish.
Marinating the sausage: To infuse the sausage with even more flavor, consider marinating it for 30 minutes to an hour before cooking. A simple marinade of olive oil, garlic, and herbs will work wonders in elevating the taste.
Perfectly al dente pasta: Cooking whole wheat pasta requires a bit of attention. Start checking for doneness a minute or two before the package instructions suggest, as whole wheat pasta can become overcooked quickly. Remember, al dente pasta holds its shape and offers a satisfying texture.
Sautéing the broccoli rabe: When sautéing the broccoli rabe, ensure that you blanch it briefly in boiling water first to remove any bitterness. Shock it in ice water to retain its vibrant green color. Then, sauté with garlic and olive oil until tender-crisp, being careful not to overcook it.
Balancing flavors: Adjust the seasoning as needed throughout the cooking process. Taste the dish before serving and add salt, pepper, or a sprinkle of Parmesan cheese to enhance the flavors. Remember, a little goes a long way, so season in small increments.
Avoiding mushy pasta: To prevent the pasta from turning mushy when combining it with the sauce, undercook it slightly. Drain the pasta a minute or two earlier than recommended, as it will continue to cook when mixed with the sauce.
Serving Suggestions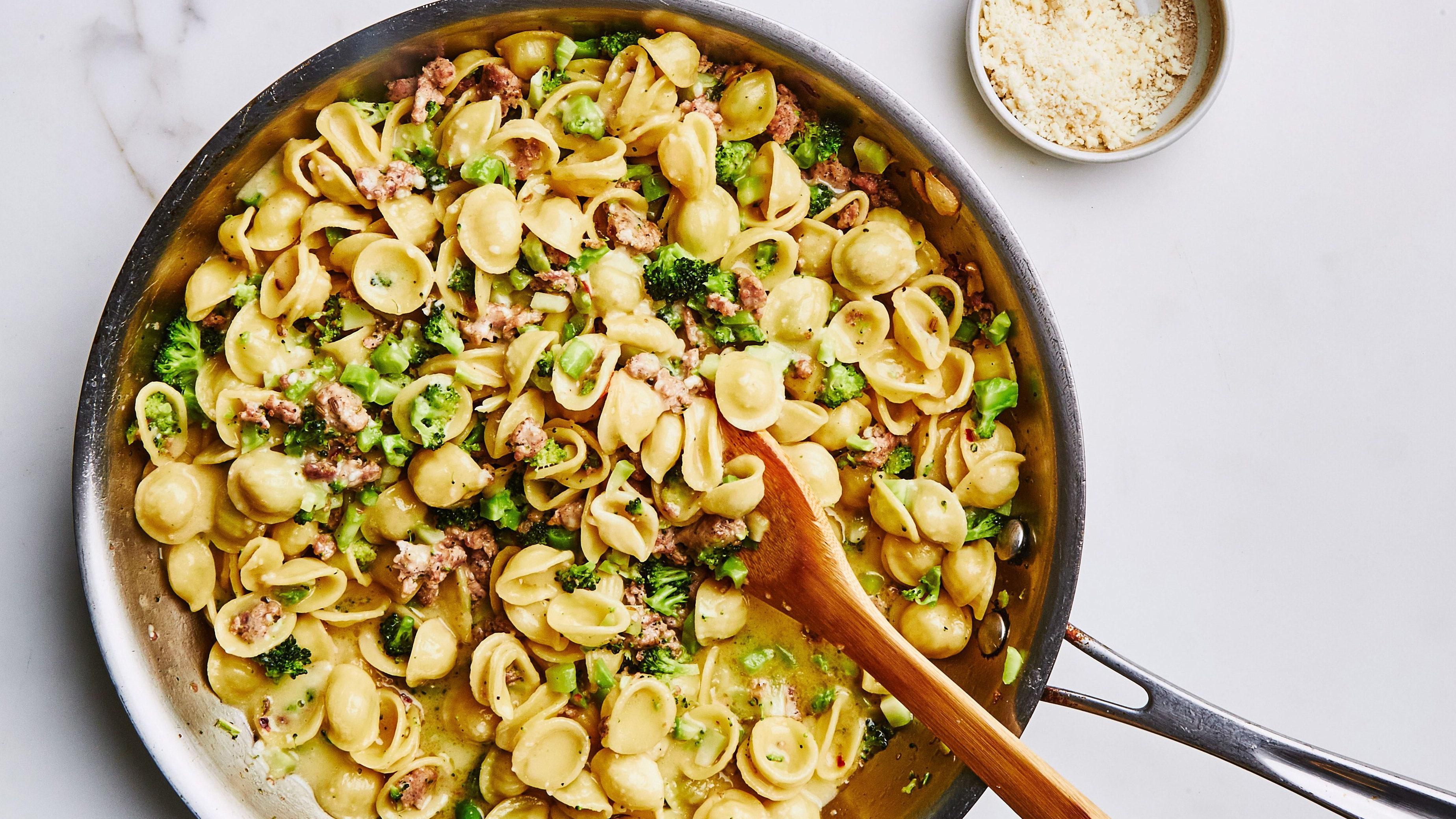 Now that your Whole Wheat Pasta with Sausage and Broccoli Rabe is ready to be served, let's explore some fantastic ways to elevate the dish and complete your culinary experience. These serving suggestions will help you create a memorable meal that leaves your guests craving for more.
Recommended sides and garnishes: Serve the pasta with a side of crusty garlic bread or a fresh green salad dressed with lemon vinaigrette. The bread will soak up the delicious sauce, while the salad adds a refreshing contrast to the flavors.
Beverage pairings: Pair this hearty pasta dish with a glass of robust red wine, such as a Chianti or Sangiovese. Alternatively, a crisp, chilled white wine like Sauvignon Blanc or Pinot Grigio can provide a delightful contrast.
Alternative serving ideas: Get creative with how you present the dish. Consider stuffing the pasta mixture into roasted bell peppers or hollowed-out zucchini boats, then baking them for an extra touch of elegance. Alternatively, serve the pasta in individual ramekins, topped with a sprinkle of Parmesan and fresh basil leaves.
Family-style feast: Arrange the pasta in a large serving bowl and let everyone help themselves. Provide an array of toppings like grated Parmesan, chili flakes, and chopped fresh herbs. This interactive serving style adds a fun element to your meal.
Brunch twist: Transform your leftovers into a delicious brunch by adding a poached or fried egg on top of warmed pasta. The creamy yolk blends beautifully with the flavors, creating a delightful morning treat.
FAQs about Whole Wheat Pasta with Sausage and Broccoli Rabe
Can I make this dish vegetarian-friendly?
Absolutely! Simply omit the sausage and replace it with grilled or roasted vegetables of your choice. The vibrant flavors of the pasta and broccoli rabe will still shine through, providing a delicious vegetarian option.
How long can I store leftovers of Whole Wheat Pasta with Sausage and Broccoli Rabe?
Leftovers can be stored in an airtight container in the refrigerator for up to 3 days. When reheating, gently warm the pasta on the stovetop or in the microwave, adding a splash of water or broth to prevent drying.
Can I use a different type of pasta?
Certainly! While whole wheat pasta adds a nutty flavor and extra nutrition, you can use any pasta variety you prefer. Penne, fusilli, or rigatoni all work well with this recipe.
Is there a substitute for broccoli rabe?
If you can't find broccoli rabe, you can substitute it with regular broccoli or even broccolini. Adjust the cooking time accordingly to ensure your chosen greens are cooked to your liking.
Can I freeze this dish?
It's not recommended to freeze this particular dish, as the texture of the pasta and broccoli rabe may become compromised. It's best enjoyed fresh or stored in the refrigerator for a few days.
Your pasta game will never be the same after experiencing the flavors of this Whole Wheat Pasta with Sausage and Broccoli Rabe. It's time to spread the joy! Share this recipe far and wide, and don't miss out on our future culinary creations. Subscribe to our blog today and be part of our passionate community of food lovers.